Forbidden Flirtation: Hayden Panetierre Spotted Kissing Married 'Nashville' Co-Star Jay Hernandez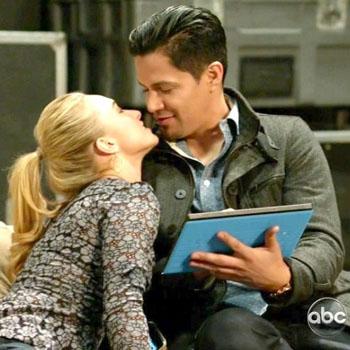 Article continues below advertisement
While on set this past spring, the on-screen duo frequently "held hands and one of them almost always had their arm around the other," a source tells the mag. "Hayden never let Jay out of her sight."
And even though Hernandez is married, to actress Daniella Deutscher, and Panetierre was dating now-fiancè Klitschko, they had no problem flaunting their relationship, says the source. (Reps for Hernandez and Panettiere denied any off-screen attraction.)
MORE ON:
Hayden Panettiere
"Most days, Jay would be done shooting his scenes hours before Hayden," the source claims. "But instead of going home, he'd wait for her and they'd leave together in her car."
In mid-April, for example, an eyewitness spotted them leaving in the same vehicle. Says the insider, "They openly kissed before driving off together."
Because of such displays, says the insider, "Everyone knew about it. … Hayden was not discreet at all."