Hayden's Got Babies On The Brain! Panettiere 'Was Born To Be A Mother'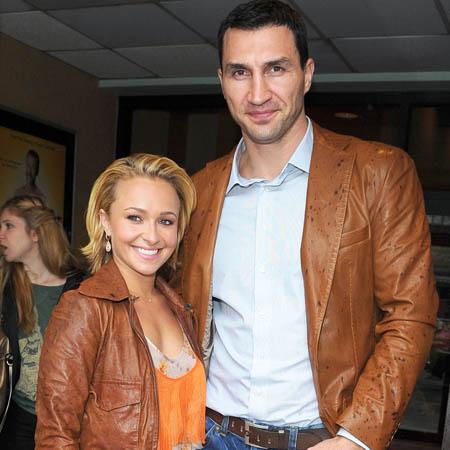 She found love again with reported new fiance Wladimir Klitschko and now Hayden Panettiere has babies on the brain!
In an interview with Glamour magazine, the Nashville star opened up about having kids, talked about how she met the heavyweight boxer and candidly spoke about her father's domestic abuse case.
"I've lived a very big life and I don't feel my age and I feel like I was born to be a mother," she told the fashion magazine.
Article continues below advertisement
"Sometimes people speak about (having kids) like 'Your life ends - you're never going to be able to do anything again!' And I'm like 'What are you talking about?' Motherhood is the most beautiful, exciting thing, and there's nothing I feel like I can't accomplish while having children in my life.
"I would sacrifice having more years of being wherever I want whenever I want for years with my kids."
Hayden was then asked if she was currently dating the father of her future kids. The blonde beauty replied: "It wouldn't shock me!"
The 5'2" starlet rekindled her romance with the 6'6" Ukrainian fighter at the turn of the year, after they initially broke up in 2011 following two years together. She puts that down to the fact they remained good friends after their split.
"It's like the 2.0 version. I've always had relationships and stayed really good friends with the guys I have dated," Hayden explained.
"It blows my mind sometimes that us getting together has gotten so much attention. It's like, really? This is breaking news?"
MORE ON:
Celebrity Romance
Article continues below advertisement
Hayden recalled the time she met Klitschko, 37, at a charity benefit.
"Life is like a lunchroom at school. In this industry you've got little individual tables of actors, singers, rap stars, this, that, the other. But it's a big industry that also encompasses anyone in the public eye," she said.
"An acquaintance of ours did a coffee-table book, and the proceeds went to genocide prevention. We met at the party for the launch of the book; we've been friends for years - we've never not been close."
In 2008, Hayden's father Alan went to jail for domestic violence after abusing her mother, Lesley. The former Heroes actress has a philosophical take on the events.
"When it happened, I knew my denying it or saying it was false wasn't going to do anything. People would just say, 'Oh, she's in denial.' My parents are really good people - they are just not meant to be together," she said.