Exclusive
Nancy Grace Slams Doc On Trial For Killing Beauty Queen Wife: 'He's Cold As Steel'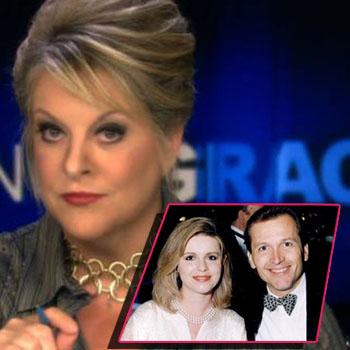 Dr. Martin MacNeill is on trial for murdering his beautiful wife Michele and acid-tongue HLN host Nancy Grace is in the courtroom for the proceedings, dishing out her special brand of venom against the accused killer.
In an exclusive interview with RadarOnline.com Grace said that as she has watched Dr. MacNeill live in the courtroom she came to the realization that "he is lanky, distinguished and cold as steel."
Article continues below advertisement
"His expression never changed. He showed no feelings at all. His jaw tightened and was I was were his teeth clenching. He was angry."
A former prosecutor herself, Grace said that she thinks the defense is "trying to say the facts are poisoned. Facts are knowledge and the defense doesn't want people to know the facts."
Attending court in Provo, Utah, Grace said that she likens this case to the Dr. Conrad Murrary/Michael Jackson case.
Article continues below advertisement
"He was putting on a show for the operator on that call. You cannot perform CPR in that position."
However, not all cases are a slam-dunk for the prosecution and Grace said that she is concerned about the jury.
"I have to go on my intuition and I am getting some red flags with this jury."
Grace also said that MacNeill reminds her of another cold blooded killer.
"He looks like a later model Scott Peterson."
Nancy Grace is broadcasting live from Utah for the MacNeill murder trial and her show airs at 8pm sharp nightly on HLN.