Exclusive
Man Arrested For Threatening To Slit Throats Of TV Hosts Targeted Nancy Grace & Jane Velez Mitchell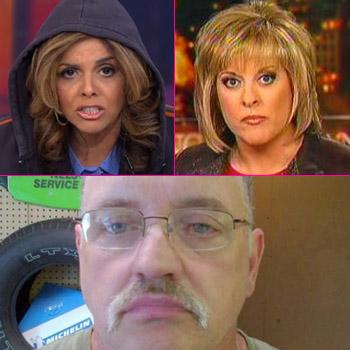 A New York man who threatened to slit the throats of two national TV anchorwomen following his anger over the Jodi Arias trial coverage has been arrested and RadarOnline.com has exclusively learned that his targets were Nancy Grace and Jane Velez-Mitchell.
The acid-tongue host and the veteran news journalist both were camped out in Arizona covering Travis Alexander's murder trial when David Simpson, 48, became angry with their HLN shows about the legal proceedings.
Article continues below advertisement
The Maricopa County Sheriff's office said Simpson threatened to tie Grace and Velez-Mitchell to a tree naked and "leave them to suffer all night" before slitting their throats.
Jodi Arias was found guilty of the first degree murder of Travis Alexander and she slit his throat from ear to ear, stabbed him 29 times and shot him in the face.
Simpson was reportedly driving from Bath, New York with "guns, binoculars, zip ties, a knife and a police radio," KCTV 5 Kansas City reported.
According to a source, "CNN took the threats very seriously and both Grace and Velez-Mitchell were aware of the threats from Simpson during the end of the Arias trial and throughout the George Zimmerman trial but they continued to do their live shows on location."
The threat was deemed credible when it was learned that Simpson "quit his job and sold all of his belongings to try and kill the women," the source said.
Simpson has waived his right to fight extradition after being arrested with the weapons.