Exclusive
Miley Cyrus' Childhood Church Pastor Reveals He's Received Hate Mail: Encourages People To Pray For The Twerking Pop Star!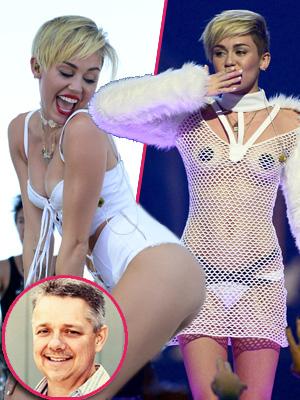 Miley Cyrus has been the center of controversy lately, but that hasn't stopped her childhood pastor from supporting the singer — despite receiving hate mail because the "Wrecking Ball" singer is a member of his congregation! -- and RadarOnline.com has all the exclusive details.
"We've gotten hate mail over the years, because that's how people are. My thought on that is it's easy to criticize until you've lived in the pressure of it," Pastor Dave Roberts told RadarOnline.com in an exclusive interview.
Article continues below advertisement
"I think most people can't imagine what it's like, they can't have any idea what that all looks like… They write to the church because they assume that anything she does and when she was younger anything on the show that they didn't like, they would write to me and say, 'You should have taught her better.' It's silly."
Pastor Roberts, who remains a close confidant of Cyrus' parents Billy Ray and Tish, believes the haters should pray for the young starlet instead of criticizing her.
"I usually write them back to say, 'You're talking about a young girl, maybe your prayer and support would be more valuable then your critique… you can't imagine the pressure (she's under),'" he told RadarOnline.com.
Of the Montrose Church in La Crescenta, a serene suburb of Los Angeles, Cyrus and her family began attending Pastor Roberts' church when they arrived to Tinseltown in 2005 because she landed the role on Hannah Montana.
Article continues below advertisement
And even though Cyrus stopped going, Pastor Roberts said the door is always open for her to come to him.
"If she ever needs help, she can know I'm here for her. I know Tish and Billy Ray much better, and Noah I know fairly well because my daughter and Noah are friends," he explained.
"The danger of giving people advice when they're not asking is you may be giving them advice they don't want. I think my role in that is I speak when I'm spoken to, so if she wants my advice she can come and ask me and I'll offer it to her."
Despite Cyrus' over-sexualized reputation, Pastor Roberts believes she lives under great scrutiny and that what she is doing is important.
"We believe what they're (the Cyrus family) doing is very important and sometimes very difficult. We do our best to be supportive of a family that we know is under terrific pressure, we've got their back, we're here for them, whatever happens," he said.
"I would I always want her to feel that we're standing by her and helping and supporting and praying for her. They're diligent people who work hard and have good hearts. They were built around some core values… I think she lives under incredible scrutiny.
Article continues below advertisement
"Anything you say about a person who is obviously creating a lot of controversy, I think to embrace her in one way alienates one group of people and to criticize her alienates another group of people and the truth is I try to just look at her as a young girl who happens to be going through her journey in front of everybody. If it was your 20-year-old daughter would you want every single choice she makes, and every phase she goes through to be publicly broadcast in every detail?"
Even though Billy Ray and Tish let Miley move out into her own house at the young age of 17 — a move they've been criticized for — Pastor Roberts doesn't slam their parenting and says children have to take their own journey.
"I think as parents we would all like to choose for our children the things they do and don't do, but that's not our role," he explained.
"We have to love our kids, sometimes in the midst of their journey and despite of their choices, which we care about because it can hurt them."