Miley Cyrus Defends Herself Against Charges She Exploits Little People: 'My B**ches Love Me'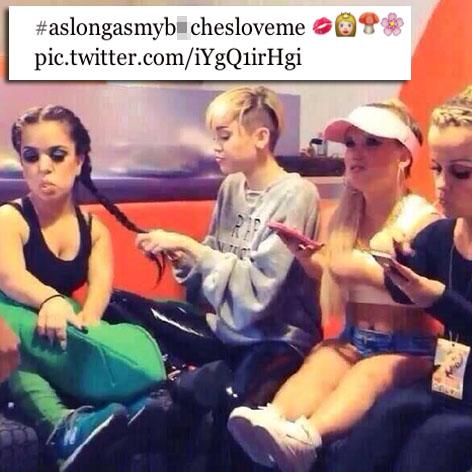 Hollis Jane may have thought she was being exploited as a little person during, during her stint as a back-up dancer for Miley Cyrus.
But there are three performers who don't seem to mind hanging out with the controversial singer.
Cyrus, 20, has tweeted a photo of herself with three of her back-up dancers - all of whom are little people, adding the tag "#aslongasmybitchesloveme."
In the picture the singer is seen braiding one performer's hair.
Article continues below advertisement
The tweet is a not-so-subtle response to Jane's blog post in which she expressed regret for being a back-up dancer during the singer's VMA performance.
Jane, who was one of the dancing bears, wrote: "For the first time I felt truly ashamed of being a little person.
"Standing on that stage, in that costume was one of the most degrading things I felt like I could ever do."
Clearly not all the backing dancers feel the same way. Jordanna James - who performs with Cyrus - told U.K. magazine Heat: "Miley's not using anybody. She supports all shapes and sizes.
"She wants to embrace diversity - everyone's different.
"That's what I love about her. She's giving us an opportunity."
In September James posted a photo of herself on stage with Cyrus with the caption: "Love love love her!!!"