Exclusive
Los Angeles District Attorney Moves To Block MJ Death Doc's Bid To Regain Medical License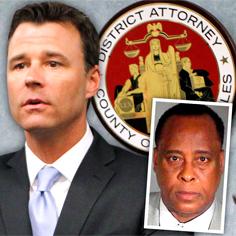 The Michael Jackson wrongful death lawsuit is over, but the fall-out for MJ's death doctor, Dr. Conrad Murray, is just beginning. Although Murray has reportedly set his sights on practicing medicine again once he is released from jail on October 28, an insider tells RadarOnline.com that the L.A. District Attorney's office will do everything in their power to make sure that doesn't happen.
"The L.A. County D.A.'s office will be closely monitoring Murray once he is released from jail," an insider tells RadarOnline.com. "If he tries to get a medical license in the U.S. or anywhere around the world, the D.A. will make sure the appropriate officials are aware that he was convicted of killing someone because he used propofol in a house."
Article continues below advertisement
The source continues, "He is a danger to any potential patients because he lacks proper judgment skills."
Murray was sentenced to four years in prison back in 2011after he was found guilty of the involuntary manslaughter of Jackson.
Automatic credit for good behavior lowered his actual time served to two years. Despite that verdict, Murray reportedly feels vindicated because the wrongful death trial verdict found Murray to be a reasonably competent caregiver for Jackson, and that AEG was therefore sufficiently prudent in hiring him.