Exclusive
Beverly Hills Business Deal Gone Bad: The Real Reason For Lisa Vanderpump & Adrienne Maloof's Fight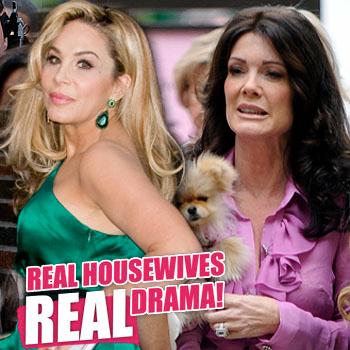 Lisa Vanderpump started out as friends with everyone on the Real Housewives of Beverly Hills, but RadarOnline.com has exclusively learned that not only is she on the outs with her former partner in crime, Brandi Glanville, and Kyle Richards, but the real reason she and Adrienne Maloof had a falling out was over a bad business deal.
The British diva's fractured friendship with her former neighbor began at the end of season one, with the ladies having a showdown at the reunion, an embittered second season and Adrienne eventually leaving the show, but the problems are apparently all tied up in money.
Article continues below advertisement
"Lisa and Adrienne were investing in business deals together and they didn't go well," a source close to the situation told RadarOnline.com.
"There was a lot of money involved and everyone ended up losing money and Adrienne and Paul were furious. They felt like they hadn't been told the truth by Lisa and that is when the tension started."
The Bravo reality stars had a slew of nasty on and off camera fights about Adrienne's children and her subsequent separation and divorce but the source said all of the bad feelings started from soured business deals.
"The fights about Adrienne's kids was a serious problem for her but the real issues were over money. Money is always a problem and when the business deals all started falling apart so did the friendship."
Now that Adrienne is off the show they two women have zero interaction, but the source said the bad feelings will never go away.
"There is almost nothing that would happen to make Adrienne and Lisa be friends again."