Dumped Real Housewife Adrienne Maloof Says She's Got 'Offers Left & Right' To Star In Her Own Reality Show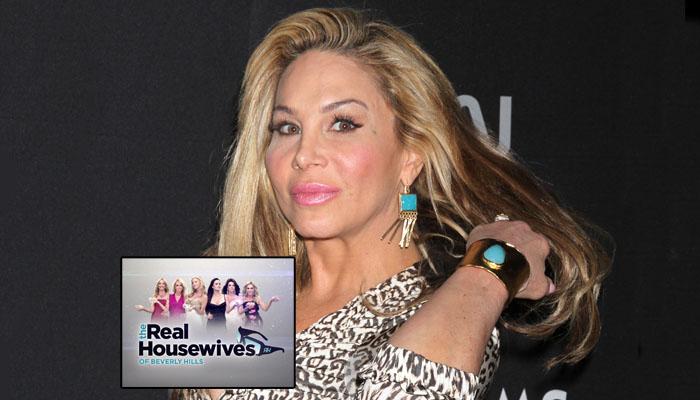 She may not be returning for the fourth season of Real Housewives of Beverly Hills, but Adrienne Maloof is getting the final word.
The Real Housewives of Beverly Hills star, who got booted off the show after she was a no-show to the reunion, is opening up about her dramatic departure from the show, dating a younger man — and her surprising new life after Housewives.
In a new interview with Ben Harvey of The Bender, Maloof says she has no regrets about missing the reunion, but insists there are no hard feelings between her and the network.
Article continues below advertisement
"I ended on a high note with Bravo," she said.
"They understand my situation. Unfortunately I wasn't able to get into too much about my marriage and my children, so I had to do what I had to do."
Despite her rocky departure from the show and all the "cattiness," the Real Housewife is thankful for the experience.
"It was a great platform and for me the second chapter of my life I think you'll find to be quite impressive," she tells Harvey.
In addition to supporting gay marriage and equality by lending her voice to the NoH8 Campaign Maloof's second chapter includes a new movie and her own reality show.
"I've got offers left and right for a reality television show and I'm doing a feature film with Dreamworks," Maloof says.
Though she won't reveal any details about the reality series, which is still in the works, insisting, "I can't talk about it yet," the 51-year-old businesswoman says, "It's a great idea and I'm looking forward to it happening."
Article continues below advertisement
The busy mom, who is working on a jewelry line for Bloomingdales, also plans to expand the reach of her Zing Vodka venture, though she won't be asking her Housewives nemesis Lisa Vanderpump to serve Zing Vodka at her restaurants anytime soon, conceding: "I think that might be the only place we won't hit."
Despite all the exciting projects on her plate, Maloof insists that being a mom is her number one priority. In fact, Maloof says her family played a role in her decision not to attend the Housewives reunion.
"I don't regret not going because I was under a court order that I couldn't be talking about children and my marriage," Maloof reveals.
"I just didn't want to take that chance; it wasn't worth it for a reality show. That day I was actually at a school event at Big Bear skiing with my kids."
When asked what she wants the world to know about her, Maloof says: "Number one that I'm a great mother. Number two that my family has taught me to work hard and give back…and that's what I'll teach to my children. It sounds very basic but it's what I believe in."
Article continues below advertisement
With her divorce from husband Paul Nassif and all the Real Housewives drama behind her, Maloof has also rekindled her romance with Sean Stewart.
"It's fun… It was refreshing to go out with him after being in a ten year marriage where obviously it got difficult," Maloof says of her relationship with the 32-year-old son of British rocker Rod Stewart.
When asked about the 20-plus year age gap between the couple, Maloof insists age is just a number, though she does take terms with the term "boy toy."
"Age should be irrelevant. Neither of us even thought about age. If you like a person you like them," Maloof says. "There's plenty of men who date younger women, and you don't hear much about that, and to make it a big deal the other way around I think is very sexist."