Exclusive
Sisters Torn Apart! Khloe Kardashian 'Left In Tears' After Kim Demands She Dump Love Rat Husband Lamar... Because He's Damaging Their Brand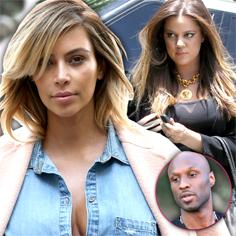 Khloe Kardashian was left in tears after older sister Kim issued an ultimatum — dump husband Lamar Odom because the NBA player is damaging the family empire, or else! — RadarOnline.com is exclusively reporting.
The showdown between the sisters occurred just before Kim left for Paris with her baby daddy, Kanye West.
"Khloe was at momager Kris Jenner's house, and Kim just lit into her about how much Lamar was hurting their bottom line and creating so much negative publicity. Kim can't understand why Khloe hasn't dumped Lamar because he is showing absolutely no desire to go to rehab," a family insider told Radar.
Article continues below advertisement
"The headlines surrounding Lamar's womanizing and drug addiction are tacky according to Kim, and she doesn't want to be associated with it. Khloe has maintained that she isn't ready to pull the plug on their marriage. The last thing Khloe needs is her family turn on her. Khloe left the house in tears."
According to sources, Khloe "isn't about to take marriage advice from Kim! Afterall, she pulled the plug on her second marriage to Kris Humphries after only 72 days, and had a child out of wedlock with Kanye. All Khloe wants is support from her family.
"It's no secret that their mother, Kris, plays favorites, and Kim can do no wrong in her eyes. Publicly Kim will say she supports Khloe, but it's an absolute lie."
Meanwhile, Odom has complained to friends that Khloe acts like his mother, and is still calling the shots in his life, even though the couple are no longer living under the same roof.
"She makes sure his assistant gets paid and is contact with Lamar on almost a daily basis," the insider previously told Radar.
Article continues below advertisement
"It has always been this way in their marriage. Khloe is extremely controlling, almost to the point of Lamar feeling suffocated. It's no secret Lamar loves candy and Khloe would nag him constantly about it when she was attempting to lose weight earlier this year. It wasn't about the candy, it was about Khloe getting her way, always. Lamar refused to give it up. He complained, 'She acts like she's my mother.'"