Lamar Odom Complaining Estranged Wife Khloe Kardashian 'Acts Like She's My Mother'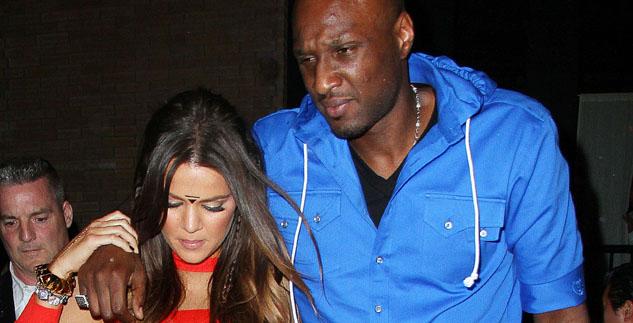 Lamar Odom is complaining to friends that his estranged wife Khloe Kardashian acts like his mother, RadarOnline.com has been told.
Even though the couple of four years are no longer living under the same roof, "Khloe calls all the shots in Lamar's life," said the insider.
"She makes sure his assistant gets paid and is contact with Lamar on almost a daily basis," the source told Radar.
"It has always been this way in their marriage. Khloe is extremely controlling, almost to the point of Lamar feeling suffocated. It's no secret Lamar loves candy and Khloe would nag him constantly about it when she was attempting to lose weight earlier this year. It wasn't about the candy, it was about Khloe getting her way, always. Lamar refused to give it up. He complained, 'She acts like she's my mother.'"
Article continues below advertisement
Adding to the dynamic of Khloe, 30, "wearing the pants in the relationship" is that Odom, 33, defers to Khloe for everything in his life.
"From what to wear, business deals, you name it, Lamar consults her for everything," the source said.
"So, for as much as Lamar complains about Khloe's controlling ways, he contributes to it as well and needs to own it."
As the coupled celebrated their fourth wedding anniversary against the backdrop of his drug addiction and serial infidelities, the youngest Kardashian sister was telling friend she was still prepared to save the marriage.
"She wants him to get better, but there is a lot to work out," one insider told PEOPLE. "She's taking everything one day at a time and concentrating on herself.
The source said that the E! star is still processing the news that Odom was unfaithful and heavily into drugs, saying the former hostess of The X Factor "never thought she would be in this position."
Said the insider: "Two years ago she would have thought they'd be happily married with kids. It's been so hard to carry this secret and try to save not only Lamar but their marriage. It's taken a toll but she's one fierce lady."