Kim Kardashian Vs. Kanye West – Competing Parties In Vegas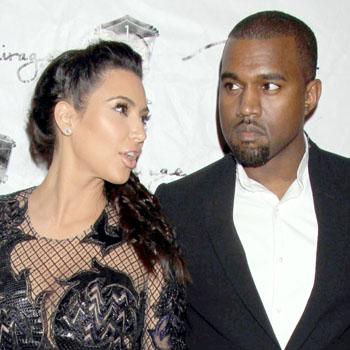 It's the ultimate competition – Kim Kardashian's $40 birthday party versus Kanye West's $350 concert.
It's business as usual for Kim, who despite having a new baby at home, is heading out to Las Vegas for her annual birthday bash where guests pay money to meet the reality star and her bash is being held the same night Kanye is performing in concert just a few blocks away.
North West's mommy has been has been under pressure from her baby daddy Kanye West to change her public persona, with new hair, a glamorous wardrobe and meetings in Paris, but she is going back to her roots by getting paid for spending her 33rd birthday at Vegas hot spot Tao nightclub on Friday, October 25.
Article continues below advertisement
Paid appearances in Vegas are a tried and true money maker for the reality family, with Kourtney Kardashian jetting off to Sin City in for a party and Rob Kardashian and Brody Jenner celebrating their birthdays there too.
In 2012 Kim was secretly pregnant on her birthday and wasn't in Vegas, but the previous years she had blow-out bashes for her parties.
Tickets are currently on sale for the extremely low price of $20 for girls and $40 for guys while tickets for Kanye's concert at the MGM Grand the same night are still available and range from $19 to $350.
Which event would you attend, Kim's birthday party or Kanye's concert? Tell us in comments.