Has Kanye Gone Too Far? West Boast 'I Am A God' In Controversial NYC Concert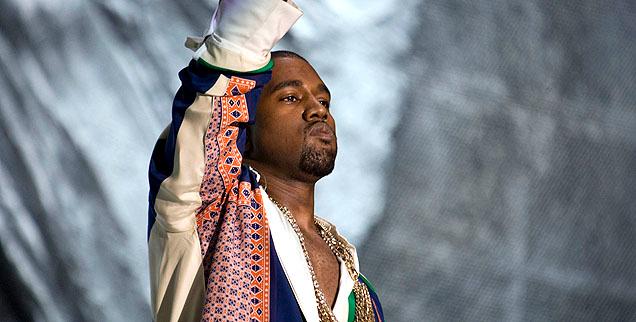 Another concert, another controversy from Kanye West.
The rapper, increasingly known for his bizarre on-stage rants, stunned the crowd at NYC's Governor's Ball last night when he debuted his new song "I am a God."
The song, from his infamously-named new album, "Yeezus," includes lyrics like, "I just talked to Jesus / And he said, 'What's up, Yeezus?' / And I said, 'S**t, I'm chili.'"
He courted controversy yet again with another new song, "Black Skinheads," which featured sinister background dancers in black KKK-style hoods. The lyrics to that song also included religious taunts, like "If I don't get ran out by Catholics / Here come some conservative Baptists / Saying he overreacting."
Article continues below advertisement
Former Full House star Candace Cameron Bure, a conservative christian recently spoke out against 'Ye's album, calling it "blasphemy" and ridiculing the star for "comparing himself to Jesus."
But Kanye made it clear that he doesn't care what the former "Full House" star or anyone else thinks during a fifteen-minute rant mid-show.
"This is the part of the show where I start complaining about s**t," he warned the crowd. "…I'm just happy to be making music, happy to be able to perform that s**t for y'all. You know with this album, we ain't drop no single to radio, we ain't got no big NBA campaign, nothing like that. S**t, we ain't got no cover. We just made some real music and you know like, back when I used to make albums and s**t. You know like, back when i used to make albums and s**t like couple years ago, three years ago, four years ago we'd go away and work on our album for five months or so, and we'd have to hold the album to like, August or September or 'til the perfect moment and shit, being like, 'I think you're gonna sell more because you have more audience and radio and s**t.'"
"Well honestly," he continued, "when I listen to radio, that ain't where I wanna be no more. Honestly, at this point, I could give a f*** about selling a million records as long as I put out an album this summer that y'all can rock to all motherf***ing summer. And I don't give a f*** that the label's saying I can sell more records. And at this point, I don't really give a f*** about outside opinions. All I give a f*** about is my motherf***ing clique."