It Runs In The Family! Kendall Jenner Goes On Epic Rant, Slams 'Slimy Media People' About Fake IDs & Partying Stories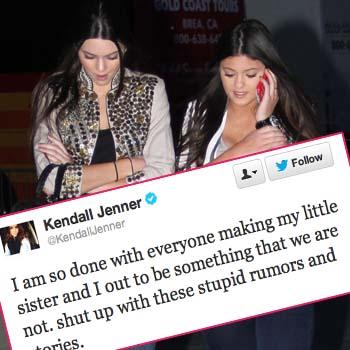 Kendall Jenner is NOT out partying and does not have a fake id, thank you very much. Taking a page out of Kim Kardshian's fiancé Kanye West's book, the Jenner sister went on her own epic rant on Twitter Wednesday afternoon slamming the "slimy media people" who have been reporting on her antics lately, which include going to a 21-and-over club and staying out until well past midnight.
"I am so done with everyone making my little sister and I out to be something that we are not. shut up with these stupid rumors and stories," Kris Jenner's 17-year-old daughter wrote.
Article continues below advertisement
"No one has fake ID's and no one's partying. we know that's what all you slimy media people want to see but that is not going to happen," the Keeping Up with the Kardashians star continued.
Kendall and Kylie Jenner, 16, were photographed leaving the Vignette Lounge, a club that features "Wax Rabbit" on Tuesdays, touted as "a new, voyeuristic, hip hop and nudity nightclub experience," but according to Kendall she's just trying to earn a living.
"We're smarter than that, we have goals and personally I think it's sad that some people sit at their desk making things up... ...about girls that are trying to have a career just like everybody else."
"Get over it. no story here."
The fact that their mother Kris allowed them to drop out of high school to work on their modeling/reality career and be homeschooled instead was a major problem for their father Bruce Jenner, who has since split with his wife of 22-years.
And like a true teenager, Kendall quickly changed the topic, writing: "On another note, I got a new Great Dane puppy and she's awesome," before continuing her life lessons for other kids out there.
"And to all the young girls out there just like me, carry yourself with class and dignity and don't let ANYONE determine your future."