Kanye West Tells Baby Mama Kim Kardashian: Keep The Curves!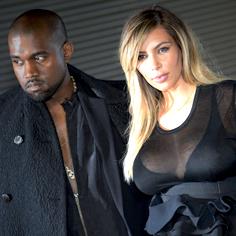 Kanye West is a fan of Kim Kardashian's post-baby body and prefers her new shape so much that he's told the former sex tape star to keep her curves.
While Kardashian has been dying to lose the baby weight, a source close to the rapper tells Star magazine UK that West is happy with her body.
"Kim's been working really hard to lose the weight that she put on carrying Nori, enlisting the help of trainer Tracy Anderson and doing four-hour gym sessions. She's lost around 40 pounds and has cut carbs from her diet, but it's not happening fast enough for her," the source said.
Article continues below advertisement
"Kanye's reassuring her that she looks fantastic, but she's still feeling self-conscious, wearing clothes that swamp her figure and dying her brunette locks golden to draw attention away from her body."
West has never been known to date the super skinny type — he dated the curvy model Amber Rose, 29, before having babyNorth West with Kardashian.
As RadarOnline.com previously reported, Kardashian's step-brother, Brody Jenner, stuck up for the new mom about all the cruel and unnecessary treatment she received from the media when she packed on the pounds.
"A lot of very cruel things were written about her. When you're pregnant it should be a great stage in your life and you shouldn't have to go to every newsstand and see pictures and headlines saying: 'Kim's a whale,'"Jenner told the U.K.'s Now magazine.
"I know it upset her — it should have been one of the happiest times of her life and it wasn't. People gain weight when they're pregnant and there's nothing wrong with that. It upset me to read some things about her."