Drugs & Women? The Jonas Brothers On Why The Band Is Breaking Up -- There's No 'Yoko Ono'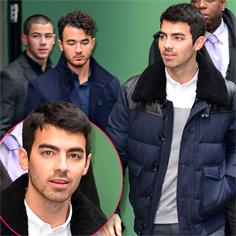 The shocking news that the wholesome Jonas Brothers band was calling it quits after making teen hearts flutter around the world was instantly wondering, was it drugs, booze or women that caused the rift?
The famous brothers finally opened up to reveal why they made the gut-wrenching decision to ditch their tour and disappoint their fans at the last minute.
"About a month or two before the tour, I had concerns about the group, which I never really had an opportunity to address. I was feeling kind of trapped, and I needed to share my heart with my brothers," Nick Jonas, 21, said in a new interview.
Article continues below advertisement
But it has been Joe Jonas who may have been the catalyst for the band's demise, and as RadarOnline.com previously reported, his "secret drug addiction was the real reason behind the spilt."
"He's been dealing with substance abuse issues for quite some time," an insider told Star magazine of Joe, 24, noting that his management team, friends and family "have been begging him to seek help.
"The tour would have never survived with how Joe was behaving."
However, he brushes aside the report and says he finds that accusation funny.
"We don't say anything for two or three weeks, and I'm being called a drug addict! It's obviously not true," Joe told People magazine.
"It's hilarious but frustrating as well. It's so dumb."
Kevin's wife, Danielle, was blamed for the failure of the band, much like John Lennon's wife, but the guys said that wasn't the reason either.
"It had nothing to do with them," Kevin said about other women causing the split and Joe agreed, saying "Not Yoko Onos."
Nick explained that it was simply the three guys deciding to end things now.
"This is about bandmates and brothers."
One thing they Jonas Brothers aren't doing it apologizing to the fans. "We understand their disappointment," Nick said. "But hopefully one of the things they loved about us is that we're a family first. That's the priority."