Exclusive
No More Nicotine! Company Offers Jenny McCarthy $1 Million To Drop E-Cigarettes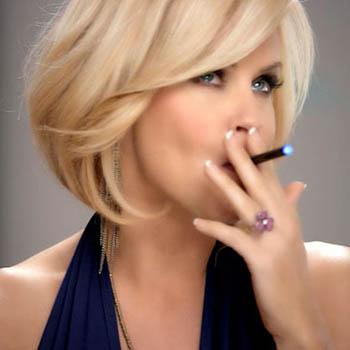 Although she's anti-vaccinations for children, controversial The View co-host Jenny McCarthy endorses e-cigarettes and a nicotine-free company wants to put a stop to it, by offering McCarthy a whopping $1 million to work with them, and RadarOnline.com has the exclusive offer letter.
Freedom Laser Therapy, Inc. is a company devoted to distributing a nicotine free and natural way to quit smoking, and they are urging McCarthy to work with them because they claim e-cigarettes keep "42.5 million Americans hooked on nicotine in one form or another."
Article continues below advertisement
"My guess is that Big Tobacco offered you upwards of $1 million to pitch their popular brand of E-Cigarettes. Freedom Laser Therapy would consider matching your electronic cigarette spokesperson salary," president Craig Nabat wrote in the letter to McCarthy.
"We would be thrilled to work with you, if you ever have a change of heart about no longer pitching an addictive product like E-Cigs. We believe E-Cigs will lead teens to eventually experiment with traditional cigarettes, because of mass distribution and promotion of this nicotine delivery device."
Appealing to McCarthy's advocacy for children, Nabat hopes he can seal the deal with single mother.
"Ms. McCarthy as you know, teenagers are rebellious, fearless and they have their whole lives ahead of them; life is beyond exciting when children are young and they want to literally experiment with everything," he writes in the offer letter.
"How can it not be blatantly obvious to you that curious teenagers seeing a beautiful and vibrant woman like yourself advertising this alternative form of smoking not be enticed to try the product themselves?"