Exclusive
Jenny McCarthy Thought Donnie Whalberg Was Gay Because He Didn't Call Her For Two Weeks!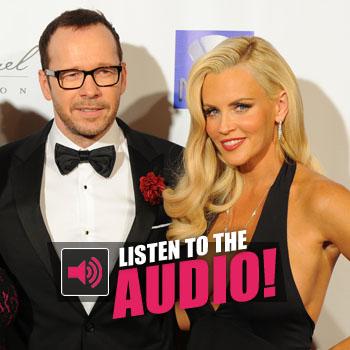 Jenny McCarthy is smoking hot and has a huge ego so when she gave her number to NKOTB singer Donnie Wahlberg and he waited two weeks to call her she thought he might have been gay!
The blonde bombshell started her new job as a host on The View on Monday and her boyfriend was a guest, but she revealed that she wasn't sure he was even interested in her at first.
"He was on my talk show for Vh1 and I went a year without dating anybody. So I don't know if I was really randy or really ready but he was there and I gave him my phone number, which I've never given a guy my number but I was interested," Jenny told Scott & Todd on 95.5 PLJ Radio in New York City on Tuesday.
Article continues below advertisement
But he played a game and made her wait, which freaked her out.
"It took two weeks for him to call me back and I thought for sure he was playing for a different team, if you know what I'm saying," Jenny explained.
LISTEN TO THE AUDIO:
https://media.radaronline.com/brand-img/wp-content/0x0/2013/09/jenny-mccarthy-iv.mp3
She said that she was doing the typical girl worrying, "That's of course my ego, a girl's ego, he must be married, he's gay, What's wrong?"
He finally dialed her up and Jenny said that "it was really great and we talked for a while. We took it slow."
Jenny, 40, is a mom to 11-year-old Evan and dated comedian Jim Carrey for five years before splitting in 2010.
She said things are going well with Donnie now, telling Scott & Todd: "I must say it's been awesome!"