Exclusive
Janice Dickinson To The Rescue! Supermodel Chases Thief In Her Car, Helps Nab Knife-Wielding Bandit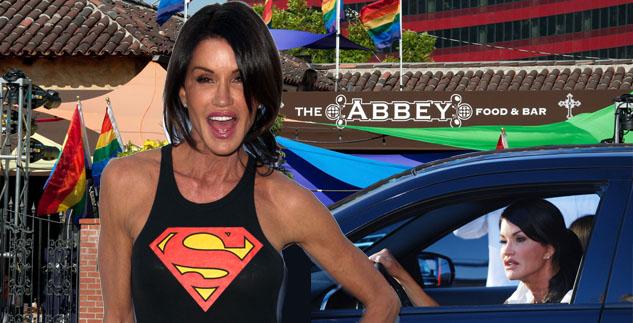 While half-naked go-go dancers from the popular West Hollywood venue The Abbey were doing interviews with a local news station this morning, a thief made off with one of their bags containing car keys and a cell phone — and you'll never believe who helped nab the bandit — supermodel Janice Dickinson!
Dickinson was grabbing her morning coffee around 6 a.m. at a Starbuck's across the way from the bar when she saw the thief giving chase. Her watchdog instincts kicked in, and the 58-year-old took off in her SUV after the suspect, helping police to corner him and eventually take him into custody,RadarOnline.com is exclusively reporting.
Article continues below advertisement
"I was up early this morning and I go to my morning AA meeting and I was standing in front of Starbucks and saw two naked men from The Abbey chasing this guy and four others got into it," Dickinson told RadarOnline.com of the pursuit.
"I saw which way they went and I know the mind of the criminal," she joked, noting that she watches Criminal Minds all the time. "So I blocked him off. He had a knife, so I called 911. They're used to me because I'm always on community watch."
Eyewitnesses tell RadarOnline.com Dickinson began yelling at the suspect and encouraged the go-go dancers — sporting only teeny briefs in the cold 50-degree weather — to jump in her car to give chase.
"I am the keeper of the gays! He ran off on foot so I told the guys to get in my car…they were freezing because they were naked so I grabbed them and saw the guy go back down the alley," Dickinson said.
"The guy stole someone's car keys and was going up and down the block clicking to see which car might go off…but he ran into the Queen of the Gays!"
Those at the scene hailed Dickinson as a hero and after being corned in a nearby backyard, police arrived with guns drawn and the suspect was arrested thanks to Dickinson's quick thinking and team effort.
"I make the community a better place to live in by my vigilance," Dickinson joked in response to being called a hero.
"It was just the right thing to do."