Exclusive
Network Demands Ex-'Storage Wars' Star Dave Hester Fork Over $122K After Failed Court Bid -- He Refuses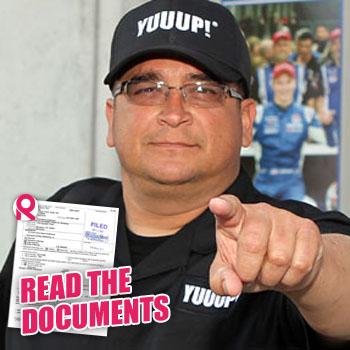 Article continues below advertisement
"Plaintiff, however, not only has refused to satisfy that Judgment, he asks the Court to block Defendants' attempts to enforce it, characterizing AETN's A&E Television Network rightful enforcement efforts as 'gamesmanship,'" the docs state.
"In reality, is it Plaintiff who is playing games, by misinterpreting (and ignoring) the clear law that entitles Defendants to enforce their judgment now. Plaintiff has no valid reason for this Court to intervene in their lawful and proper collection attempts."
As RadarOnline.com previously reported, Hester claimed he was fired from the series after alleging the reality show was staged. He sued both the production company, Original Productions, and the cable network that airs the shows, A&E.
The new court docs obtained by RadarOnline.com state that judgment awarding attorney fees was entered on Aug. 8 and "Plaintiff has had two months to appeal (or pay). He has done neither. There is no justification for a discretionary stay; he should pay the monies owed to Defendants."
MORE ON:
Celebrity Justice
Article continues below advertisement
Just days later, Hester responded to the defendants' opposition and filed his reply with the court on Oct. 22 claiming the defendants have no right to his assets, including the unused portion of any retainer paid by Hester to his attorneys.
"Contrary to what Defendants argue, California law does not plainly provide that court orders awarding attorney's fees are immediately appealable," the docs state.
"Since Hester has no right to immediately appeal the attorney's fee award, it follows that Defendants should have no right to prematurely enforce the award."
Bottom line, Hester doesn't want to pay up.
Hester's high-profile lawyer, Marty Singer, backed down from his initial plan to have the show the subject of a court injunction and told The Hollywood Reporter, "We are looking forward to taking this case to a trial."