Exclusive
Storage Wars Star: I'm Psychic & God Told Me What The Ratings Would Be – Listen To Her Bizarre Claims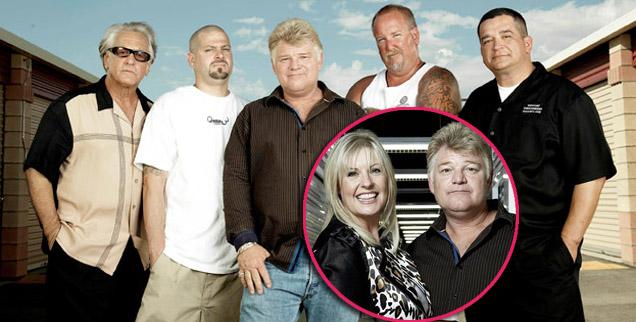 Behind the often acrimonious negotiations between the cast of Storage Wars and network and production company executives, one cast member claims to have had some extra help!
Laura Dotson, one of the featured auctioneers, believes she is psychic and says that God told her not only that the show would be a hit, but also what the ratings would be and that it would generate spinoffs!
Dotson's pronouncements are caught on tape and RadarOnline.com has it exclusively.
Article continues below advertisement
"I told… about my dream and I said …you guys are going to have Storage Wars Dallas, and also going to New York and New Jersey," Laura, on tape, says she told execs connected to the show (long before the spinoffs were announced). "And they looked at me with the craziest look (and asked) how do you know that? Who have you been talking to?"
"And I said, 'God told me this.'"
Cue spooky music!
You can hear Laura's psychic pronouncement on tape here on RadarOnline.com. She then goes on to detail the rest of the conversation with execs asking her what the ratings will be and as she spits out the numbers, lets just say she seems to be a little off on what the peak will be.
Meanwhile the tape also features her husband Dan Dotson discussing suing the network and having the entire cast band together, as RadarOnline.com reported exclusively.
"As long as we're going in for a united front I'm cool with that," Dan says. "We're all going to make money. If we all step up to A&E and say, 'We're walking if you don't talk,' they're going to start talking.
"I can see us all locking arms and telling A&E, 'F*ck off.'"
Article continues below advertisement
And while Dan plans and plot how to get maximum money from the network he says he knows he's doing the right thing because he's surrounded by psychics!
"I've got a bunch of psychics around me, they are psychic and they all tell me that we are doing the right thing," he says on the tape and then mentions other cast members that need to band together, including Dave Hester (who was still on the show at the time), Darryl Sheets, Jarrod Schultz and others – except for one.
Dan is caught on the tape dissing Barry Weiss.
"Want to put Barry out there…go ahead…Barry is the slacker, he acts like he's a slacker but he's really not. He really is a slacker," Dan says.
Things didn't quite work out the way Dan and the psyhics predicted, though. Hester left and sued the network, Barry is leaving (as RadarOnline.com reported exclusively) and Dan and Laura were left out of several bonus episodes in Season Four, replaced with other auctinoneers.
Oh, and the show has been exposed as routinely faking scenes by planting items in bought lockers.
Listen to the audio below. (Warning: graphic language.)
radar_embed service=5min.com src="http://pshared.5min.com/Scripts/PlayerSeed.js?sid=1126&width=570&height=351&playList=517837021&sequential=1&shuffle=0"