Camille Grammer Granted Restraining Order After Claiming Ex-Boyfriend 'Repeatedly Slammed My Head & Face Into Furniture' During Hotel Room Altercation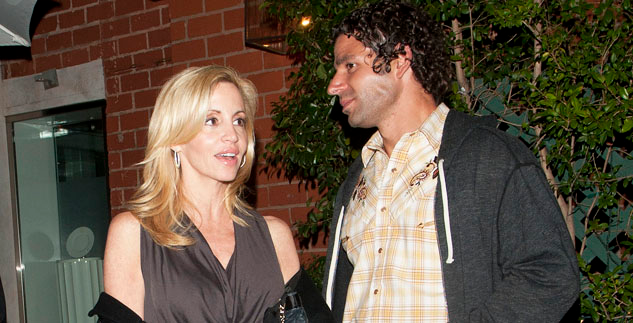 Article continues below advertisement
Per the temporary restraining order, Charalambopoulos must stay at least 100 yards away from Grammer and her two children.
Represented by attorney Larry Stein, Grammer claims in the declaration that while in a Texas hotel room with Charalambopoulos on Oct. 16 the two got into a screaming match around 1:30 a.m. when he received text messages and a phone call from another woman.
According to the request for the restraining order, Charalambopoulos then grabbed Grammer by the hair and slammed her head into the bed and headboard repeatedly, even pulling out chunks of her hair.
Grammer then claims Charalambopoulos smashed her iPhone when she tried to call for help.
Keep in mind, this was just days after Grammer was released from the hospital after having undergone surgery because she is in the early stages of endometrial cancer.
"He squeezed my nose between his finger and pushed upward forcefully, covering my mouth in an attempt to silence me to prevent me from breathing," Grammer claims.
"He was repeatedly slamming my head and face into the furniture and completely immobilizing me."
Grammer even claims Charalambopoulos taunted her into calling the police saying, "'I wanna smash your head in. I'll give you a reason to call the cops.'"
After 40 terrorizing minutes of abuse, Grammer claims it finally ended, and fearing for her life she filed for the temporary restraining order.
Stay with RadarOnline.com as the story develops…