Camille Grammer Claims She Was Abused, 'Feared For Her Life' And Will File Police Report: 'This Man Belongs Behind Bars'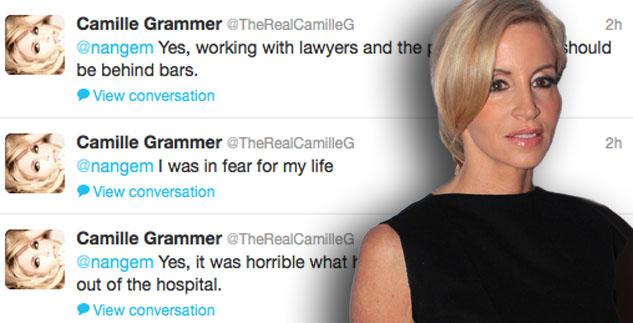 Former Real Housewives of Beverly Hills star Camille Grammer opened up with shocking allegations on Monday, claiming she was physically abused and plans on pressing charges against the man she says "belongs behind bars."
Grammer has been publicly dating boyfriend Dimitri Charalambopoulos for quite some time, but she does not name him as the man that abused her.
On Monday, Grammer shocked followers on Twitter by releasing the following messages:
Article continues below advertisement
Bombarded with questions and well-wishes from followers and fans, Grammer, 45, explained that she was in fear for her life and has been working with authorities and attorneys to explore options — hoping it lands the man in jail.
And when asked by one follower if she was hurt, Grammer candidly answered, "Yes."
Sadly, Grammer says the alleged abuse happened just two days after she was released from the hospital for surgery after learning she was in the early stages of endometrial cancer.