A-Rod Throws MLB A Curveball, Sues League For Trying To Ruin His Reputation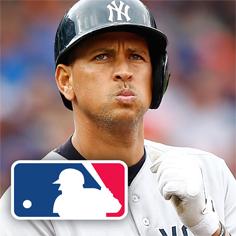 10:08 a.m. PT -- MLB has responded to Rodriguez's lawsuit, labeling it "nothing more than a desperate attempt to circumvent the Collective Bargaining Agreement."
The league said: "While we vehemently deny the allegations in the complaint, none of those allegations is relevant to the real issue: whether Mr. Rodriguez violated the Joint Drug Prevention and Treatment Program by using and possessing numerous forms of prohibited performance-enhancing substances, including Testosterone and human Growth Hormone, over the course of multiple years and whether he violated the Basic Agreement by attempting to cover-up his violations of the Program by engaging in a course of conduct intended to obstruct and frustrate the Office of the Commissioner's investigation."
Article continues below advertisement
---
Alex Rodriguez is stepping up to the plate in his battle with Major League Baseball, claiming the league and commissioner Bug Selig have used him as a fall guy for the sport's once-rampant drug issue -- trying to ruin his reputation in the process -- in a suit filed with New York State Supreme Court.
The New York Yankees third baseman, in the suit, says Commissioner Bud Selig and his cabinet have continued to "gloss over" the years in which baseballs were flying out of the parks -- and filling up the stands -- coming off the bats of other juiced-up sluggers.
Rodriguez said in the suit in doing this, Selig is trying to cast himself as baseball's "savior," while using him as the convenient scapegoat.
As we previously reported, the former Seattle Mariner and Texas Ranger was levied a 211-game suspension this summer for his purported use of steroids.