Alan Thicke's Advice To Son Robin & Paula Patton: 'Adopt A Few Ethiopian Kids,' You'll Be 'The Next Brangelina'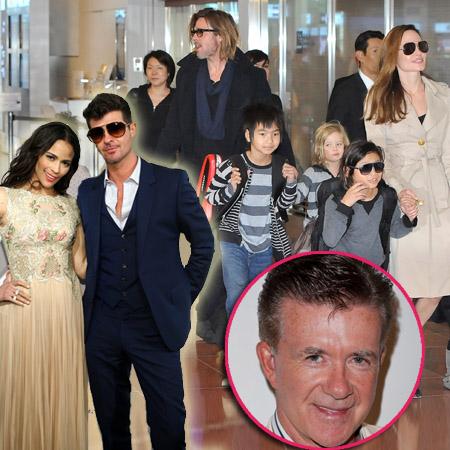 Seems like Robin Thicke's ascent into superstardom isn't coming without a few Growing Pains.
First, his breakout hit Blurred Lines raised eyebrows with lyrics critics called rape-friendly; then, there was that whole twerking incident with Miley Cyrus at the VMAs; and now, his father Alan is adding to the headache with a politically-incorrect comment sure to generate the wrong kind of buzz.
Speaking to Us Weekly Saturday, the elder Thicke, 66, mused on the fast-moving careers of both his singer son and daughter-in-law Paula Patton, sharing with the magazine the cringe-worthy advice he gave Robin regarding his and Paula's surging fame.
Article continues below advertisement
"I told him, 'You're a power couple now. If you only adopt a few Ethiopian kids, you'd be the next Brangelina.'"
Obviously, the 66-year-old sitcom star was referring to the A-list power couple's six children, three of whom were adopted abroad, one (Zahara Marley) from Ethiopia.
Alan, attending at the Denim and Diamonds for Autism event at Westlake Village, Calif.'s Four Seasons Hotel, admitted he's somewhat vicariously living through his son's success after multiple stabs at a music career never amounted to much.
"I'm thrilled for him," Alan, 66, told the magazine. "I've always dabbled in music. If I could have grown up to be Robin Thicke, I would have.
"But I'm glad somebody in the family did."