Exclusive
Zac Efron Raging Pals With Charlie Sheen: 'They Partied Together,' Says Insider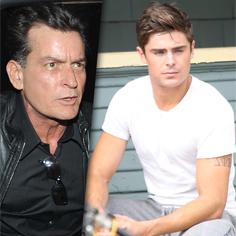 During Zac Efron's downward spiral into the world of drugs, he was partying it up with the notoriously fast-living Charlie Sheen, RadarOnline.com is exclusively reporting.
According to a source close the situation, Sheen and Efron were introduced by a mutual friend.
"Zac was in Charlie's inner circle for a few months. The two became very good friends. Zac was spending a lot of time at Charlie's Beverly Hills mansion and they were definitely partying together," the insider revealed.
Article continues below advertisement
"There were a lot of very good looking women hanging around."
The source says Sheen's friends were shocked to see the former Disney star partying with him — but he held his own.
"Some of Charlie's friends were very surprised to see Zac hanging around Charlie because he looked like such a clean cut guy," the source told RadarOnline.com.
"However, he could party with the big boys."
Sheen is known for his hard-core partying, admittedly snorting copious amounts of cocaine and smoking crack on a daily basis at times.
In 2012 after a brief period of sobriety, Sheen was back on drugs with a source telling RadarOnline.com, "For at least the last eight months or so Charlie has been having a quarter to half an ounce of cocaine delivered to him every single day and was spending nearly $2,000 a day on drugs. Sometimes he'd even get two to three quarters of cocaine in one day."
While hanging out with Sheen, Efron visited the set of his show Anger Management numerous times.
Article continues below advertisement
"Zac visited Charlie on the set of Anger Management," the insider said. "The two would hole up in Charlie's trailer when he wasn't filming."
But suddenly Efron disappeared from Sheen's party scene — presumably to enter rehab.
"Just as quickly as the two became such good friends, Zac abruptly disappeared from Charlie's parties," the source added.
"There was no explanation for the absence."
As RadarOnline.com previously reported, Efron, 25, completed a stint in rehab earlier this spring.
A second source confirmed Efron was last seen on set nine months ago.
"Charlie hasn't seen Zac in a while - he spent one day with him two years ago at a super bowl party at Charlie's house," the insider added.
Pals of the 17 Again actor told RadarOnline.com they fear if he relapses and starts taking drugs again, he'll end up overdosing like Glee star Cory Monteith.
"Friends are genuinely worried about him, because if Zac relapses like Cory Monteith did he'll likely go back to using the same amount of drugs he was doing before rehab," the insider said.