Cop Claims Pervy Police Sergeant Peeked At Whitney Houston's Naked Corpse, Said 'Damn, She's Still Looking Good, Huh?'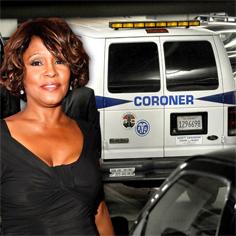 Whitney Houston's death scene was a frenzy of police officers but a shocking lawsuit has been filed claiming that a perverted Beverly Hills SWAT sergeant responding to the scene made lewd and "inappropriate comments" about her dead body, and said "Damn, she's still looking good, huh?."
The lawsuit was filed in Los Angeles County by Sgt. Brian Weir who alleges that on February 11, 2012, the day of Whitney's death, Det. Sgt. Terry Nutall arrived at the Beverly Hilton Hotel and "for no legitimate law enforcement inquiry, investigative, or other proper and legal purpose knelt beside and leaned over the decedent, removed the sheet and/or other covering from the body of the decedent to an area below the pubic region of the decedents body."
Article continues below advertisement
Read The Shocking Lawsuit Documents Here
The claim continued detailing what the Sgt. allegedly did, saying he " came in close proximity to touching the body of the decedent while making inappropriate comments to the effect and substance that the decedent 'looked attractive for a woman of her age and current state' and 'Damn, she's still looking good, huh?'"
Whitney's death was ruled an accidental drowning with cocaine and heart disease as contributing factors by the Los Angeles Coroner's office.
Sgt. Weir alleges in his lawsuit that he reported Det. Sgt. Nutall and the City of Beverly Hills and the Police Department and he was retaliated against for his actions.
The documents state that Sgt. Weir was removed from his positions with the SWAT and K-9 units of the Beverly Hills Police Department, denial of promotion to other positions, removal of employment supervisory duties and responsibilities, denial of special pay, loss of overtime compensation, denial of training, harassment and ostracizing.