Exclusive
Where's The Bling? Taylor Armstrong Still Not Wearing Her Engagement Ring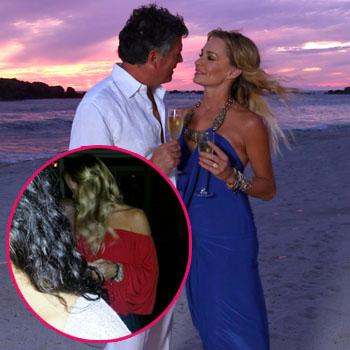 Article continues below advertisement
"Taylor was sitting at the bar with a group of friends drinking and having fun, but she was not wearing an engagement ring on her left hand," an eyewitness exclusively told RadarOnline.com.
John's fiancée spent about two hours at the bar during happy hour and she headed out about 8:30pm.
As RadarOnline.com previously reported, Taylor accepted John's marriage proposal in August without a ring.
"Taylor's ring is being made currently," Los Angeles jeweler Ari Soffer confirmed via email. "Her ring is a one of a kind that John and I designed together… Once the actual ring is finished we will happily share photos."
The ring will be an 18-carat gold piece and will feature 56 diamonds on a pattern of the fleur de lis and 65 diamonds around the band, but she has yet to debut the sparkler.
UPDATE: When asked by RadarOnline.com when the ring would be ready from the jeweler, Taylor's fiance John said, "End of next week. Had to be recast. Which happened yesterday."