Taylor Armstrong Is Engaged! Says 'Yes' To John Bluher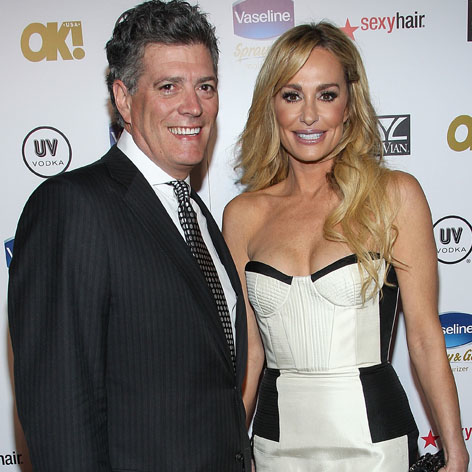 Taylor Armstrong is headed for another trip down the aisle. The Real Housewives of Beverly Hills star is engaged to John Bluher.
Bluher slipped a ring on her finger on Thursday.  It was two years -- almost to the day -- that Taylor's previous husband, Russell Armstrong, committed suicide.
The engagement took place at the St. Regis Punta Mita Resort in Mexico, E! News is reporting.
Bluher had arranged for a tent to be sent up on the beach outside the hotel; a path lined with candles led his bride-to-be to it from their oceanfront suite.
Article continues below advertisement
Over a bottle of Veuve Grand Dame Champagne and with a ring designed by Ari Soffer, Bluher popped the question.
"The St. Regis Punta Mita Resort is where we fell in love, it was the perfect choice for this wonderful occasion," Buher told E!. "Taylor was beautiful and never stopped smiling! It was an amazing evening."
As RadarOnline.com reported, Bluher was a married father-of-three when Armstrong began dating the attorney.  Even her own reality castmates were outraged over it.
The Colorado-based lawyer later separated from his wife and filed for divorce, issuing a statement that his new girlfriend was not the cause of the split.
Taylor Armstrong's Shocking Black Eye Photos
"Taylor Armstrong is not a home wrecker," Bluher said in February just before their first red carpet appearance together.
With his divorce now final, Bluher wasted no time in getting down on one knee to ask Taylor to marry him.
The two have not yet announced a date for their sure-to-be televised wedding ceremony.