Exclusive
Does This Have The Ring Of A Ratings Ploy? Real Housewife Taylor Armstrong Got Engaged — Without A Sparkler!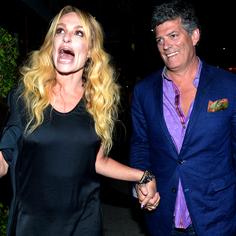 The rules of engagement suggest you have to, at least, have a ring on the finger in order to say yes when proposed to. Not according to The Real Housewives Of Beverly Hills' star Taylor Armstrong.
RadarOnline.com has learned the mother-of-one agreed to marry her fiancé, silver fox John Bluher, in a blaze of publicity… but without the one thing needed to solidify their love — a ring!
"Taylor's ring is being made currently," Los Angeles jeweler Ari Soffer confirmed via email. "Her ring is a one of a kind that John and I designed together… Once the actual ring is finished we will happily share photos."
Article continues below advertisement