Exclusive
'Trust Issues' At Center Of Simon Cowell's SUV Spat With Baby Mama Lauren Silverman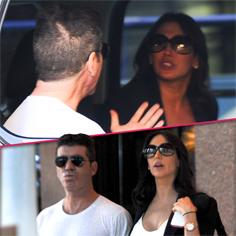 Article continues below advertisement
An eyewitness of the couple's spat exclusively tells Radar that trust issues were at the core of the fight.
"I heard Lauren say, 'Trust issues…YOU'RE talking about trust issues?!'" the source recalled.
Trust issues are plausible on both sides, with Cowell remaining close friends to his ex-fiancee, Mezhgan Hussainy, and Silverman recently divorcing her husband.
An ultimate action of betrayal, The X Factor judge impregnated Silverman while she was still married to Andrew Silverman, a once close friend of Cowell's.
Andrew then filed for divorce in July, naming Cowell as a co-respondent and citing adultery as the reason for their split.
The couple, who have a 7-year-old son together, finalized their divorce in mid-August with Andrew telling Radar, "As I've said all along, my priority was resolving this quickly for the sake of our son. Lauren and I both love him very much and I'm looking forward to starting a new chapter in our lives. (Hopefully people will respect our family's privacy.)"