Exclusive
Revealed: The Pippa Middleton Lookalike Who Has Stolen Robert Pattinson's Heart -- Meet His New Girlfriend Sydney Liebes!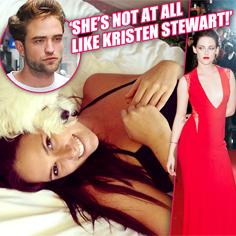 Rob Pattinson is finally moving on from Kristen Stewart -- and only RadarOnline.com can exclusively reveal the identity of the ONLY woman who has helped him find love again: Hot brunette personal trainer, Sydney Liebes.
"Sydney kind of looks like Kristen, but she's not at all like her," a source close to Liebes tells RadarOnline.com exclusively. "She's down to earth, really energetic, uplifting, whereas Kristen is so somber and tomboyish. Sydney's a great match for Rob!"
Article continues below advertisement
Liebes first met Pattinson, 27, in a professional capacity, when she was hired to train him for his upcoming role in Misison: Blacklist.
"This is kind of her first big A-list client," the friend reveals. "She's trained clients at Equinox Beverly Hills but nothing of Rob's status."
"So she started training him and they were connecting really well," the source continues. "Rob invited her out."
Before long, they were hitting the town together as a couple.
Roughly three weeks ago, according to the pal, Pattinson and Liebes were spotted holding hands during a night out at Soho House in Los Angeles.
"They were kind of like snuggling together and being touchy feel," the source says. "There was definitely a lot of physical interaction."
Somewhere around 3 am, Liebes left with Pattinson and went back to his $3.7 million Beverly Hills mansion, the friends reveals.
Article continues below advertisement
Indeed, Rob went so far as to call the Pippa Middleton lookalike his "girlfriend" when he took her to actress Shoshanna Bush's birthday party in L.A. on Saturday night, as RadarOnline.com has reported.
"Their hands were all over each other!" a source said at the time.
Though the couple are moving quickly, the source insists that Liebes isn't in it for fame and fortune.
"I don't think she's seeking celebrity status," they explain. "We're into the whole Hollywood scene, so she easily could have done that a long time ago. She's a good girl."
"She's really down to earth and low-key. She's excited about Rob, but at the same time she's keeping it really quiet."
Indeed, the couple have gone to great lengths to avoid exposing their romance up until now, according to another source, deliberately arriving to the gym and leaving separately so as to throw off paps.
It was only in the past few days that they were finally snapped in the same frame.
Article continues below advertisement
Despite a new report from Life & Style that claims Rob was "flirtatious" with model Dylan Penn, actor Sean Penn's daughter, during a night out on Sept. 7, things have only heated up with Liebes in recent weeks.
Explains the source: "I think it's a great match. Sydney is very well-rounded. Of course, she's a personal trainer, so she'll keep him in good health. And she still likes to party too, but nothing crazy. She's not a big drinker. It's definitely a great match."
When approached by RadarOnline.com, Liebes said "I don't have a comment, thank you."