Exclusive
He's Just Like A King! Prince Jackson Is 'Behaving Like Royalty With My Daughter,' Kuwaiti Princess Tells Radar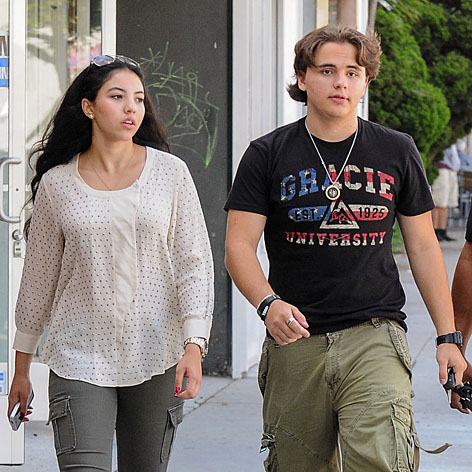 Michael Jackson's son, Prince, is behaving like royalty with his girlfriend, real life Kuwaiti princess, Remi Alfalah.
That's according to Remi's proud mom, Alana Alfalah, who has told all about their relationship in an exclusive RadarOnline.com interview.
"I trust Prince with my daughter and I'd stake my life on him always being a gentleman with her," Alana said of the 16-year-old heir of the late King of Pop, who died in 2009.
Article continues below advertisement
"We enjoy Prince. He's exceptional."
Prince and Remi have been dating for ten months and were recently seen smooching and having lunch together at Boa Steakhouse in Beverly Hills.
Alana said she felt compelled to praise the young man after Jackson family sources complained of Prince being a renegade.
"If he wasn't such a great kid, I'd continue to keep to myself and not say anything, but if you call being in the honor society, never breaking curfew and helping others a renegade, then that's Prince," Alfalah gushed.
"He comes over and he usually has a curfew and he reminds his grandmother sometimes what that curfew is and he always makes sure to leave well ahead of it," she said.
Last week, some members of the family complained that Prince had been keeping late hours and ignored requests of his grandmother and guardian, Katherine.
They said he wants out of the Jackson family mansion in Calabasas and is even considering marrying his Princess.
Article continues below advertisement
But Alana insisted, "They are not at that stage yet. I will say this, even if they were to ever part ways, I'd still have a lot of love and respect for Prince."
Alana is married to Kuwaiti royalty -- but out of respect for her husband and the family's religion, she declined to discuss him only to say, "My husband is very strict, so Prince must be special for his approval."
The Al-Falah family is closely connected to Sabah Al-Ahmad Al-Jaber Al-Sabah of the famed Royal House of Al-Sabah, whose reported net worth is approaching $1 billion. The Al-Falahs travel often to Kuwait, Monaco, Dubai, Paris and various parts of Europe.
Still, Alana has remained low-key and encourages her four children about the importance of education. And she said Jackson matriarch Katherine is similar.
"She's a lovely woman who really is on top of things," Remi's mom said.
Katherine and T.J. Jackson, who both serve as guardians to Prince and his two siblings, Paris and Blanket, have each visited the Alfalah family.
When Prince's sister, Paris, 15, attempted suicide in June, it was Prince who shouldered the responsibility of making sure his little sister would be okay, Alana revealed.
Article continues below advertisement
"He has a lot of pressure with all that has gone on, but he handles everything well. He never speaks an ill word and he cares about everyone," Alana said.
Remi's mom said the kids met when her daughter first started attending the Buckley School in Sherman Oaks.
"She was alone and the kids weren't very nice. Prince just approached her and he started showing her around and they grew close.
"They are serious about their education, the both of them. Look, my husband is from Kuwait and I'm American, he's very strict, so there is no way he'd allow Remi to see someone who wasn't doing the right things in life. Prince doesn't get into trouble, he doesn't smoke, and he doesn't drink. We wouldn't allow Remi to be with just anyone," Alana said.
Alana revealed, "Prince makes his own jewelry by hand, great pieces and he draws a lot, he's into art. Both of them are also so worried about nature and animals and Prince is meticulous, always cleaning his car and making sure things are tidy."