Exclusive
Melissa Gorga's Wifey Philosophy: 'Treat Your Husband Like The King; He Needs To Be The Man'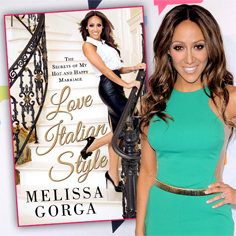 On screen in The Real Housewives of New Jersey, we've watched Melissa Gorga's hot and passionate relationship with her husband Joe grow season after season.
But in her new book, Love Italian Style: The Secrets Of My Hot And Happy Marriage, Melissa opens up about what really makes her marriage tick and offers advice on how to be the perfect housewife.
RadarOnline.com got the chance to catch up with Melissa and have a chat about her new book.
Article continues below advertisement
RadarOnline.com: On RHONJ, you said you didn't want to include stuff about your dad's infidelities in your book. What changed your mind?
Gorga: What I saw growing up has a lot to do with how I run my marriage now. He had been with my mother since he was 18 and when he wanted to go out and party, he did it, but he didn't go with my mother. So I've learned that the couple that plays together, stays together. It's important that when you want to go out and have a good time, you do it together. You don't need to do it separate.
RadarOnline.com: How did Joe respond to you telling him about your father?
Gorga: He completely understood. I know that he respects me as a wife and mother and it's very important to me to have a strong and healthy marriage. I think it helps him understand why.
RadarOnline.com: You talk about treating Joe like a king. What does that mean?
Gorga: When you treat your husband like the king, you in return will be his queen. What I mean by that is, when you make him feel like he's the man of the house and when you make him feel like he's important… he's going to treat you like the woman and it works both ways and then everyone's happy. It's not necessarily that you have to cook him dinner every night, but do something to make him feel appreciated for going out all day and let him feel like the man. He needs to be the man.
Article continues below advertisement
RadarOnline.com: When you guys first got married, you were about to accept a job to be a teacher, but then Joe asked you to come work with him. Do you ever regret not taking that teaching job?
Gorga: No. I always wanted to do that, but I worked with him and we bettered the business of which is now our family business. It went from outdoor construction to we own buildings now. We worked really hard for it together and we built it together. So no, I have no regrets. I wanted to be a mommy anyway. I wanted to raise my children, so it worked out.
RadarOnline.com: What was the toughest obstacle you had to face in the early years of your marriage?
Gorga: The power struggle. It was very hard when you go from an independent girl who paid for everything on her own. When you go from being a very independent person to you have this husband who is kind of the head of the house, it was hard for me at first.
RadarOnline.com: At what point did you guys learn to balance out your relationship?
Article continues below advertisement
Gorga: It really took five full years to really get to the point where I understood and I could start letting my ego go, and say, 'This is my husband.' With my job and with everything else yes, but not with my husband. It took me a while to realize that.
RadarOnline.com: You talk about sex techniques a lot in your book. Which of your techniques is the most important to you and Joe and why?
Gorga: The foreplay is really important, and it doesn't necessarily have to be sexual. It can definitely be just little phone calls during the day or when he gets home, you can be in a pair of your yoga pants as opposed to being a mess. It's little flurrying things that you guys would do when you guys were dating that what women let go of once they get comfortable. Men are visual. They want to come home and see everyday exactly what they married. Most of the time, you need to keep up for him. That's what I've done.
RadarOnline.com: I love the story where Joe tells the story about seeing you on spring break but not really getting to go on a date with you until a year later. What was it like to hear that story when he first told you?
Gorga: I still love that story and I confirmed with his best friend that he was with at the time in Cancun that it was true and it was. I was there with my girlfriends and he was there with his guy friends and he saw me walk across the pool and he said, "One day that'll be my wife." It was about a year later and it took him a couple of times to get me to go to dinner with him, but once we did, we were inseparable ever since.
Article continues below advertisement
RadarOnline.com: What did you think about Joe's pickup line: "You're everything I want in a woman. I'll put you on a pedestal. Go out with me?"
Gorga: I thought it was cheesy at first. I was rolling my eyes like, "You're such a ladies' man." He was serious though. He did put me on a pedestal and he kept all of his promises.
RadarOnline.com: At first, you kept turning Joe down. What actually made you decide to give this guy a chance and go on a first date with him?
Gorga: I heard that he had a fiancée before me and I heard that he was kind of a ladies' man. I just kept turning him down. And then, I don't know, just something about his eyes and the way he just seemed so genuine and I just said, "Hey what the heck? I'll go for dinner. It's not like I'm going to marry him." And that didn't work. That didn't happen.
RadarOnline.com: What is one thing that fans are going to be surprised to find out about you in this book?
Gorga: There's so much… for one instance, I say in there that women don't poop and Joe has never seen me poop, never knows that I poop. He still thinks to this day that I don't and I agree with him that I don't.
RadarOnline.com: What is the best advice that a woman who recently married could take away from this?
Gorga: Women feel vulnerable when they treat their men like the king, and they have to realize that they won't. You will be on top when he's on top.