Melissa Gorga Tells Husband After Birthday Party Blowup: 'You Lose Control Like A Psycho!'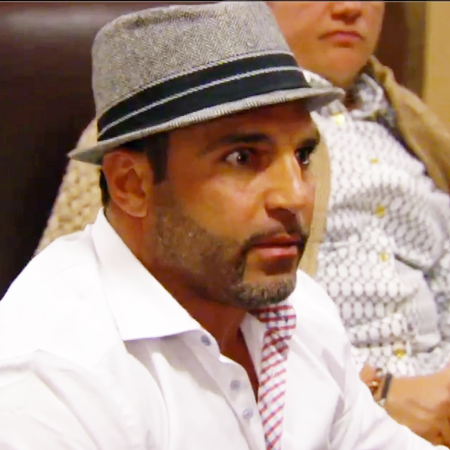 Article continues below advertisement
So much so, that his devoted wife took him aside and said, "You idiot. You lose control like a psycho!"
The meltdown happened after the RHONJ stars gathered at a dinner to celebrate Melissa's birthday and conclude their Miraval Arizona Resort & Spa vacation.
But it was anything but relaxing when Joe Gorga decided to confront his sister Teresa about what she knew about a woman named Penny Drossos who has spread nasty rumors about Melissa.
As RadarOnline.com has previously reported, Melissa, who glammed it up in a sparkly romper, gave a toast to everyone -- but blatantly snubbed Teresa.
Then Joe Gorga stirred things up even more.
"We were in a bad place," he said about the ongoing Gorga-Giudice family feud that was seemingly smoothed over earlier this season.
"I admitted I hated Joe," Gorga said about his brother-in-law, Teresa's hubby, Joe Giudice. "But I'm happy I could tell him that -- and I am happy today I am sitting with him here talking."
Article continues below advertisement
After starting with a conciliatory tone, Joe Gorga then got to the point, telling the Giudices, "I know you didn't like my wife.
GALLERY: The Giudice's 30 Most Shocking Quotes About Fraud & Finances
"You had problems with her. And then this cheating thing comes up! It's still going on."
Joe said Penny had been bashing Melissa on Twitter, saying she had cheated on him.
"These people knew facts about me that nobody knew," Joe said, implying Teresa was behind it all.
"You think that I would tell her secrets about you?" Teresa frowned.
Joe said, "Yes."
After a pause, he added, "But I've forgiven you for that. I don't care anymore, but I still believe you did it."
Typically, Teresa's attitude was, "Who, me?"
She said Penny hung around with Jan, another woman the Gorgas know, hinting Penny circulated the gossip.
"I never gave her any information," Teresa insisted. "I never was a part of it. I want to drop it."
Article continues below advertisement
With the other housewives and their mates also wishing they could be done with the brother-sister conflict it once and for all, Joe said Teresa's attitude at her recent Milania hair care line event with Penny seemed "staged."
At the party, Teresa had seemed to coach Penny to say that the RHONJ alpha wife had nothing to do with the nasty innuendo!
"For you to doubt your sister pi**es me off," Teresa said.
"It's okay if you did it. Who cares?" Joe said.
Teresa replied, "I didn't do it! I'm not going to admit to something I didn't do."
In confessional, Melissa shrugged, "Teresa will never admit she was involved with these people -- I'm more concerned about making Penny stop."
Fellow housewife Jacqueline Laurita, who patched up her friendship with Teresa during the spa vacation -- which involved the entire group meeting an equine therapist and doing a high wire trust exercise -- sighed in confessional, "Let's not go back to the dark place. Please don't let this start another family war.
Article continues below advertisement
"We've made so much progress."
But Joe Gorga then got heated with Juicy Joe, pointing out HE wouldn't want someone saying things about HIS wife.
"Forget about the idiot!" Juicy scoffed.
But Gorga said if it was happening to Juicy, it would be different.
An emotional Gorga said, "Straighten her out: Let's end it!"
He threw his champagne glass on the floor, shattering it.
"That's what I want to see!" he shouted.
After Melissa warned Joe about his "psycho" behavior, and Teresa told him the broken glass almost went in her eye, Gorga reiterated that he just wanted to end the Penny madness.
"Joe's not right for throwing the champagne glass but his heart is ten times bigger than his temper," Melissa declared in a confessional segment.
"He gets so upset that anyone would try to hurt his wife so I have such a soft spot for him when he does things like that."
Then Kathy Wakile suggested Joe and Teresa should simply unite against the haters like Penny.
Incredibly, Joe and Teresa ended their latest spat and agreed they would get together to confront the woman who was making Gorga get hot under the collar -- and Joe promised Teresa there would be no violence!
The Real Housewives of New Jersey airs on Bravo Sundays at 8/7c.