Exclusive
What Financial Trouble? NeNe Leakes Says Teresa Giudice Gave Her A 'Very Expensive' Wedding Present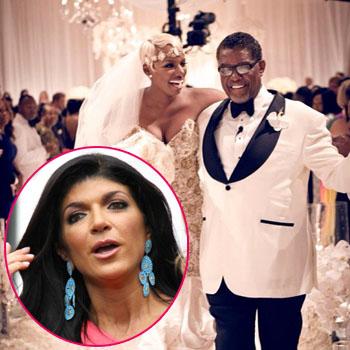 Article continues below advertisement
"Teresa Giudice gave me Hermes plates, they were very expensive," NeNe told RadarOnline.com on Tuesday.
Under federal indictment for tax fraud and evasion, Teresa's personal finances have come under scrutiny from the Feds who are accusing her of faking documents about her income.
However, according to NeNe those gifts haven't broken Teresa's bank.
"I saw Teresa last night and she didn't ask for them back," NeNe laughed when asked if Teresa had asked her to return the gifts.
However, NeNe's three registry lists only have Hermes crystal glasses, but no plates.
The Hermes crystal stemware that was purchased from her registry list totally a whopping $3,310 but Nene said that Judge Mathis was the generous giver, telling RadarOnline.com he bought "every glass I registered for at Neiman Marucs. I do not need more glasses. This was a several thousands of dollars!"
NeNe also said that Bravo exec Andy Cohen gave them a "really nice gift," too.
I Dream of NeNe: The Wedding series premiere airs on Bravo on September 17 at 9pmET.