Exclusive
Ex-LeAnn Rimes Fan Asks Judge To Dismiss Invasion Of Privacy Lawsuit Because The Singer's 'Hands Are Equally As Dirty'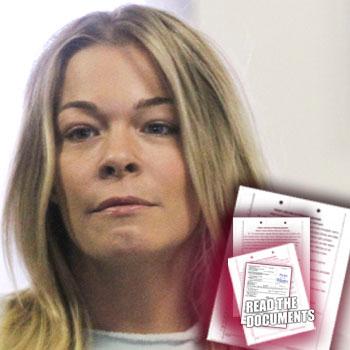 The one-time fan at the center of LeAnn Rimes' bitter invasion of privacy lawsuit has asked a Los Angeles judge to toss the case against her, arguing that if she is guilty of doing anything wrong, so too is the county superstar!
The two-time Grammy Award winner is suing teacher Kim Smiley and her daughter Alexa after the pair allegedly recorded a 2012 telephone call between them and the singer which was later leaked online.
Article continues below advertisement
In an answer to Rimes' complaint seeking damages, filed in the Los Angeles Superior Court and obtained exclusively by RadarOnline.com, the Smileys argue the "How Do I Live" star has no claim or rights against them because of, among many claims, the "doctrine of unclean hands."
Under California law, "unclean hands" is a doctrine that prevents one party to a lawsuit from receiving a particular outcome to a case because that party has also engaged in bad behavior -- i.e. Rimes' hands are equally as dirty.
It is based on an idea of basic fairness: One person should not be able to stop another person from doing a bad action if the first person is also doing it.
They also claim the wife of actor Eddie Cibrian is not entitled to damages because she is a public figure, had "no expectation of privacy" during the leaked call and has failed to mitigate damages during the course of the case.
Article continues below advertisement
In a nine-page filing, the Smileys also suggest that Rimes' "conduct, actions, omissions, deeds" -- and the conduct of her "agents, employees, lawyers, publicity staff, producers or assistants" -- should prevent her from asserting they committed any "wrongful or improper conduct."
Their answer read: "Defendants Kimberly Smiley and Alexa Smiley and each of them generally deny the allegations of the Complaint and each purported cause of action alleged therein, and further deny the Plaintiff has suffered, sustained, or is entitled to any damages, costs or expenses, in any sum or amount, by reason of any act, omission, or conduct on the part of Defendants Kimberly Smiley and Alexa Smiley and each of them either as alleged in the Complaint, or at all."
As RadarOnline.com reported, during a court appearance earlier this year, Smiley's lawyers have argued that the contentious call was made in a public place — a Malibu, Calif., restaurant.
Rimes' legal team has asserted that "at no time did Ms. Rimes consent to being recorded."
California law dictates that all parties consent to the recording.
A jury trial has been scheduled for June 2, 2014, but the Smileys have already asked that a judge award them attorney's fees and other expenses.