Exclusive
LeAnn Rimes Tells Teacher She's Suing: I'm Too Busy To Answer Your Questions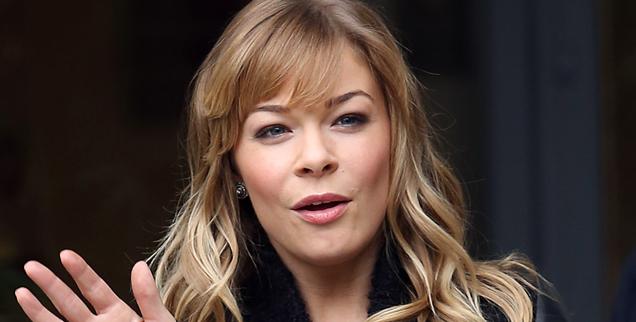 It's time for LeAnn Rimes to tell the truth, the whole truth and nothing but the truth.
But not quite yet.
The singing star has turned down two dates for her deposition to be taken by Kim Smiley, the teacher and mom of six who she is suing for invasion of privacy, stemming from a recorded phone call.
LeAnn is just too busy right now, her team has said, delaying what is sure to be a brutal session of questioning.
Article continues below advertisement
Smiley is also likely facing criminal charges stemming from allegedly recording a phone call that Rimes (through a pal) placed to her. Portions of the call ended up on the internet.
"LeAnn just released an album and says she is too busy on dates that were suggested for her deposition," one source told RadarOnline.com.
And Rimes IS on tour, with dates in the U.S., the United Kingdom and more as she supports Spitfire, her latest album, which has had disappointing sales.
"LeAnn's team has turned down two suggested dates for her deposition," a source familiar with the case told RadarOnline.com. "But she is going to have to do this eventually."
And it won't be pleasant.
Rimes can expect to be asked wide ranging questions, including how much alcohol she drank at lunch the day she called Smiley and what her mental condition was at the time.. She also is likely to be asked about her time in a rehabilitation center, which she said she entered for stress and anxiety in 2012.
MORE ON:
Celebrity Justice
Article continues below advertisement
And Rimes is also sure to be grilled about her online activities. She has befriended several Twitter pals and the war between pro-Rime and pro-Brandi Glanville forces often turns ugly. (Quick primer: LeAnn had an affair with Brandi's then-husband Eddie Cibrian. Now LeAnn and Brandi don't get along. And their fans hate each other, too.)
LeAnn will also be questioned about "what meds she was taking," at the time of the phone call, says a source.
Smiley, who stopped following Rimes online and took her account private nearly a year before her phone call with the singer, has supporters raising money for her legal defense. Glanville even donated $500, as RadarOnline.com previously reported exclusively.
Many of Smiley's supporters believe Rimes opened phony accounts and had people she was close to report what her critics were saying online. (RadarOnline.com has verified that many Rimes' supporters monitored her detractors' accounts, even when they were blocked, but there has been no 'smoking gun' to prove that LeAnn directed any of that activity.)
Because Smile is also possibly facing criminal charges from the recorded phone call, the civil case is likely to be dragged out. But when and if Rimes sits for a deposition, she will face the most difficult questions of her life.
But for now, Rimes and Smiley have not agreed on a date, with the singer rejecting two proposed times.