Exclusive
LeAnn Rimes, Brandi Glanville Feud Reignites After 'Housewives' Star Confirms She Donated $500 To Defense Fund Of Teacher Being Sued By Singer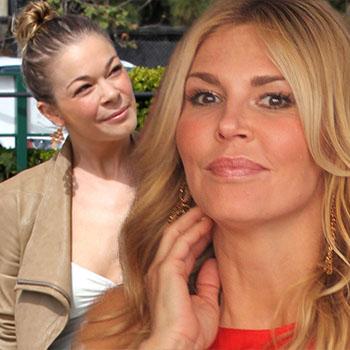 Brandi Glanville has donated $500 to the defense fund for the teacher being sued by her ex-husband's new wife LeAnn Rimes, RadarOnline.com can reveal.
The Real Housewives of Beverly Hills star confirmed the surprising twist in the case and claimed she made the gift because she was "stalked, harassed and bullied" by members of the singer's team for years.
"I don't know the woman from Adam, but I was stalked, harassed and bullied for two years by LeAnn's producer, Darrell Brown, her tour manager and hairdresser," Brandi told Radar in an exclusive interview.
Article continues below advertisement
"I never once called them on the phone or filed a lawsuit against them. If LeAnn wants to heal from this she needs to let it go and walk away like I did."
As Radar previously reported, 30-year-old LeAnn is suing teacher and mother-of-six, Kim Smiley, for invasion of privacy.
The "How Do I Live" country singer claims she was bullied online by Smiley and had a conversation recorded without her permission which was subsequently leaked online.
When asked to comment about Brandi's shock move to help fund Smiley, a rep for LeAnn questioned the Bravo reality star's motives.
"On the day that LeAnn's critically acclaimed album 'Spitfire' is released, we admire the fact that Brandi stands by her convictions and is willing to publicly donate her hard earned money to the Smileys' six or more months after their initial ask," the spokesperson told Radar.
Article continues below advertisement
"Contrary to Brandi's reasoning for her compassion and donation, the civil case has nothing to do with bullying, harassment nor voicing one's opinion.
"The fact is, in California it is illegal to record a conversation without permission and then proceed to distribute the material. In terms of the criminal case that has and will always be the decision of law enforcement and is completely out of our control or influence."
LeAnn also responded to 40-year-old Brandi's claims that members of her entourage had once bullied her, insisting to Radar she "does not condone bullying in any form."
"I would hope everyone takes a pause and remembers there are real people you are insulting before you hit 'send,'" LeAnn said, exclusively.
"There are a number of great organizations that I have worked for in the past and will continue to support. Currently I am focusing on The Friend Movement and will be performing a benefit show for them. I love their new campaign that is aimed at changing the F word."
Article continues below advertisement
Brandi's decision to donate money to Smiley is a dramatic escalation in the bitter and public feud that has erupted when LeAnn met her now husband, Eddie Cibrian, in 2009 on the set of their made-for-TV movie Northern Lights.
Eddie was then married and had two children with Brandi, while LeAnn was then married to dancer Dean Sheremet. Months after rumors of an affair first surfaced, Eddie left Brandi and LeAnn left Dean. The pair later married in 2011.
Smiley could need Brandi's help, after all: as we reported, both LeAnn and Smiley made settlement offers that were rejected by the other side.
Meanwhile, criminal charges are looming against Smiley. Radar broke the story that the Sheriff¹s department has finished its investigation and turned the case over to the district attorney with a recommendation to prosecute the mother of six.
Brandi has stated in the past that she thinks LeAnn should drop the lawsuit against the woman, suggesting "it is not going to end up good for anyone."
"Maybe I should sue you for this bullying tweet!! #owners**t," Brandi tweeted also last year.
"If I sued every person that ever harassed me on twitter I'd be a GAZZILIONAIRE!"