Exclusive
Criminal Charges Likely In LeAnn Rimes Case Against Teacher Over Recorded Phone Call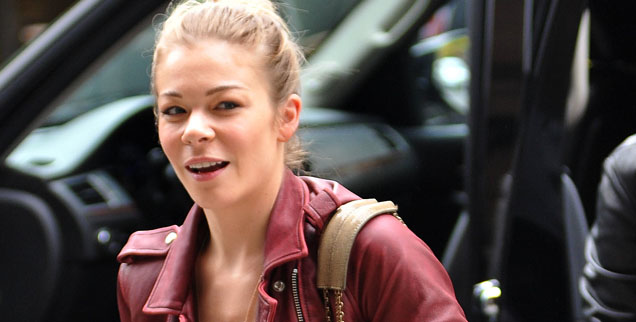 Criminal charges are likely to be filed in the LeAnn Rimes case against teacher Kim Smiley over a recorded phone call that has also led to a civil suit filed by the star, RadarOnline.com has learned exclusively.
Rimes is suing both Smiley and her daughter, alleging they illegally recorded her phone call. The suit was filed in California in Auguast, 2012.
Now RadarOnline.com has also learned exclusively that Rimes filed a police report last year and criminal charges are likely to be filed against Smiley soon.
Article continues below advertisement
The Los Angeles County Sheriff's department presented the case to the District Attorney's office last week with a recommendation to file charges, a source told RadarOnline.com exclusively. In addition, sources tell RadarOnline.com that prosecutors are likely to follow that recommendation.
The Sheriff's department originally turned over the case to prosecutors in October, 2012, a source told RadarOnline.com. But the DA's office kicked it back to the Sheriff's department for more evidence, including witness statements and electronic communication.
The Sheriff's department spoke to several witnesses in the case - including Rimes -- but has not interviewed Smiley, RadarOnline.com has exclusively learned.
It is not yet known what charges will be filed, but California is a two-party consent state, meaning that under most circumstances all parties must agree to the recording of a phone call.
The phone call at the center of the case was placed by Rimes to Smiley in March, 2012 from a restaurant, and the recording ended up online.
Article continues below advertisement
The bizarre backstory to the case involves Rimes' heavy involvement on Twitter and the war between her fans and detractors, the latter group largely supporting Brandi Glanville. Rimes' affair with Brandi's then-husband Eddie Cibrian is still a hot topic on social media, leading to bullying, name calling and worse between the opposing camps.
Smiley was not a Rimes' supporter and made that known online, becoming engaged with the pro- and anti-camps. But she took her Twitter account private several months before Rimes placed the phone call to her.
MORE ON:
Celebrity Justice
Rimes was at lunch with some of her Twitter fans --including a woman named Ericka, who could be a key witness - when she decided to call Smiley, a mother of six, about her viewpoint. Ericka apparently is the one who physically dialed Smiley's number and then immediately handed the phone to Rimes, who seemingly wanted to speak to Kim about the teacher's view of her. (Note: one source tells RadarOnline.com that Ericka was more that a "Twitter fan" and was in fact close friends with LeAnn, although they did interact on Twitter as well.)
Article continues below advertisement
Smiley previously told RadarOnline.com she was stunned when Rimes called her. "Hey b**ch this is LeAnn you have 5 minutes to say whatever you want to me!" LeAnn said, according to Smiley in a previous RadarOnline.com interview. (Update: A source close to LeAnn says that the singer actually said: "Hey, it's LeAnn. You have five minutes to tell me what a b**ch you think I am.")
RadarOnline.com broke the story that Smiley said about Rimes on the phone call that she has "never heard a person cuss so much."
"I even asked her to watch it, saying, 'Your language - so trashy!' I was also surprised that she thought I'd just change my mind about her and want to come hang with her," Smiley previously told RadarOnline.com. "I don't like her, not because of the affair (although I don't agree with it), but because of her taunting of Brandi and using those boys in her sick game."
Rimes was in a public restaurant when she placed the phone call but that does not automatically mean she surrendered her expectation to privacy.
If charged and convicted, Smiley could face a fine and up to a year in jail on each count.