Style Stalker! Kim Kardashian Has 'Creepy' Obsession With Sarah Jessica Parker: Report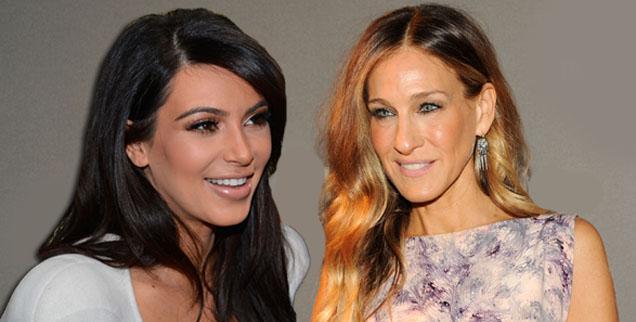 Kim Kardashian is hoping to go from sex tape queen to Sex and the City: According to a new report, Kim is desperate to transform herself into respected actress and fashionista Sarah Jessica Parker, and even hired SJP's publicist to help her do it!
"Kim wants to be seen as sophisticated, as high-end and fashion, not the girl who made a sex tape and is famous for being famous," a publicist told NaughtyButNiceRob.com.
Article continues below advertisement
And so, she recently fired her longtime publicist, PMK's Jill Fritzo, and hired Ina Treciokas, who represents Sarah Jessica.
"She is trying to buy her reinvention by employing SJP's team," the source explained. In fact, they claim, she's even looking into hiring SJP's stylist, hairdresser and makeup artist too!
"Sarah thinks the whole thing is flattering but a little creepy," one insider told the site. "If Kim wants to be Sarah, her advice would be to go to acting classes. Learn a craft and become admired for the work you do, not just the way you look."
Up until now, Kim has relied on baby daddy Kanye West to shape her image, as RadarOnline.com has reported.
Do you think SJP is a good role model for Kim? Does she have a shot at becoming more like her? Let us know in the comments!