Exclusive
Justin Bieber's New Drug Shocker — Close Pal Linked To International Cocaine Smuggling Ring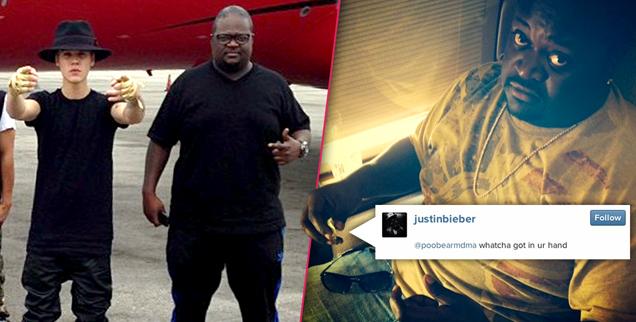 UPDATE: Since publication, Justin has deleted this photo of Poo Bear holding the baggie of white powder. Neither he nor Poo Bear have commented.
For months, Beliebers and casual observers alike have criticized Justin Bieber's choice of company. His BFFs Li'l Za and Li'l Twist have wrecked his cars, been arrested for DUI and just generally seemed like they might not be the best influences on the increasingly out of control star.
Article continues below advertisement
But RadarOnline.com has exclusively learned that one member of Justin's inner circle could be a much more dangerous -- and even deadly -- friend. Justin's friend Jason Boyd, known to Beliebers by the innocuous name "Poo Bear" is pals with dangerous international cocaine smugglers.
On Monday, Justin posted a picture on Instagram of Boyd holding what appeared to be a small baggie of white powder and captioned the shot, "@poobearmdma whatcha got in your hand."
Fans were quick to accuse Boyd of holding "cocaine," "molly," and "marijuana," but whatever he was holding, commenters seemed more disturbed by the fact that Justin, 19. would even joke about possibly being near drugs.
"Justin please don't do drugs we want u healthy!!!!!" @mr_msjerry12 wrote.
Wrote @bieber_grande_, "Justin please don't do drugs!! Please please …"
User @alija_xoxx wrote, "Justin take that … and throw it away …"
Article continues below advertisement
RadarOnline.com has learned that his fans could have reason to be concerned, because Boyd's own BFFs aren't bratty teens, but international drug smugglers.
Earlier this year, Boyd posted a series of Instagram shots from a trip to Suriname -- a South American nation that is a notorious hub for cocaine smugglers. As far back as 1992, U.S. officials warned of the country's growing problem in an official report and warned, "There is no question in the view of the U.S. government that there is significant army, and probably some police, involvement in narcotics trafficking in Suriname."
Indeed, the nation's own president, Desi Bouterse, was convicted in absentia by a Netherlands court in 1999 of smuggling more than 1,000 pounds of cocaine into the country. His son, Dino Bouterse, was arrested just this past Friday for conspiring to send 22 pounds of cocaine to the United States in a suitcase.
And during Poo Bear's trip to the troubled country, he happily posed for pictures with a man known as "Jungle Commando," former rebel leader Ronnie Brunswijk, who has also been convicted in absentia of smuggling cocaine into the Netherlands. Like the nation's president, he has never served jail time.
During his time with Brunswijk, Boyd also posed with a 100-round-clip semi-automatic machine gun, went on a tour of the jungle with Brunswijk and Suriname's Vice President, Robert Ameerali, and smelted large bricks of 24k gold -- not your typical tourist activities.
Sidenote: Poo Bear also goes by "MDMA," like the methamphetamine-based party drug — responsible for two fatal overdoses at the Electric Zoo dance music festival in New York at the weekend. Poo Bear, on the other hand, claims it stands for "Most Devoted Musician Alive."