Exclusive
Janice Dickinson Slams The Kardashians: 'They Ruined Television!'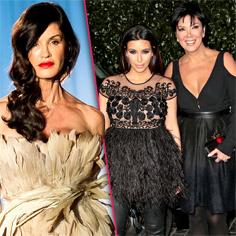 While the Kardashians might believe they are America's First Family of reality television they do not have a fan in Janice Dickinson, who exclusively told RadarOnline.com that she "threw up" when she heard that and slammed the family, saying they "ruined television."
The former supermodel is starring in a new music video with singer Jon Sandler in a Graduate style story for his new song Stars Align but she said that her own family life is normal compared to the E! stars.
Article continues below advertisement
"I have a real family. I raise my children with values," Janice railed against the family. "My daughter goes to the University of Michigan and is a Kappa Kappa Gamma. When I heard that the Kardashians called themselves the First Family of reality television I threw up.
"Kris Jenner signed a contract with Vivid," she said, referring to daughter Kim Kardashian's sex tape with Ray J.
"Kris approved the video, she signed it along with Kim and Ray J."
A Kardashian rep previously labeled claims that Kris was involved in the release of the tape "100 percent not true."
Janice also ripped Khloe Kardashian's troubled husband.
"Lamar is a crack star addict and her daughter is a porn star. They ruined television."
Kim's baby daddy Kanye West, who was pictured smiling in New York City on Monday earned some sympathy from Janice.
"Kanye! Poor f***ing Kanye! He's 3,000 miles away and he's grinning ear to ear, of course."
Article continues below advertisement
Janice said that the only person who she likes on the show is Kris' husband, Bruce Jenner.
"He moved out! He's the star. How did Kris Jenner hoodwink him?"
Janice ripped the entire family, telling RadarOnline.com that they're all "dark."
"Their father defended a killer. And Rob designs socks?
"Anyone that buys anything from anything from the Kardashians should be shot.
"They are not Americans. They are un-American! They are Anti-American."
Janice's co-star in the music video sang her praises about their shoot together.
"She was awesome and exactly what I wanted her to be," Jon told RadarOnline.com about Janice dressing up in a stunning pink Quinceanera dress.
"I wish I had more horror stories about her but she was real sport and was funny. Even though it was 100 degrees out she was a champ."
Jon explained that Stars Align song isn't actually a love song.
"It's a passive aggressive breakup song. It doesn't really mean we'll get back together in the future. It means we're never going to see each other again."
Check out Janice and Jon in the Stars Align video below and follow him on Twitter.com/JonSandler.
radar_embed service=5min.com src="http://pshared.5min.com/Scripts/PlayerSeed.js?sid=1126&width=570&height=351&playList=517928490&sequential=1&shuffle=0"