Jake Steinfeld Dedicates Fitness Center In New Jersey Alongside Gov. Chris Christie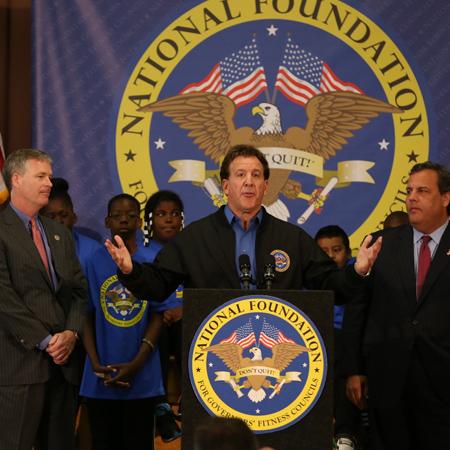 Jake Steinfeld continued his cross-country tour Thursday, stopping off in New Jersey, where he joined Gov. Chris Christie and Coca-Cola president Steve Cahillane for a ribbon-cutting on Live Positively Fitness Center.
"This is a great day for New Jersey and students throughout the state," Christie said. "I am honored to have teamed up with Jake Steinfeld to promote the National Champion schools program in New Jersey and see three of our schools win a Live Positively Fitness Center."
Article continues below advertisement
"I'm focusing on getting the job done: We've declared war on childhood obesity," said Jake, who also dedicated a center alongside Delaware Gov. Jack Markell this week.
He also took the Fox host to task after he criticized Governor Christie's weight loss journey. Watch the full interview here.
The Body By Jake star praised Christie for his participation in the program, saying "He's a solid citizen, he kind of struggles a little bit, he gets it, he wants to be an example too."