Exclusive
Stay Out! AEG Moves To Restrict Media From Closing Arguments Of Michael Jackson Wrongful Death Trial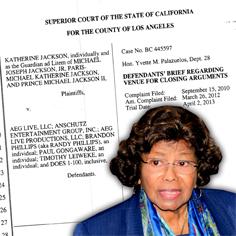 Katherine Jackson and millions of Michael Jackson fans around the world could get closure in the next few weeks as the Jackson family matriarch's wrongful death lawsuit against concert promoting company AEG finally comes to an end.
But RadarOnline.com has learned that AEG is attempting to ensure that it doesn't turn into a media circus as the lawyers for each side give their closing statements: On September 18, lawyers filed a brief attempting to block a proposed move to a larger courtroom that could accommodate more members of the press.
Article continues below advertisement
"Counsel for defendants were quite startled -- and concerned -- when the Court informed the parties that the Court intended to conduct closing arguments in the large courtroom, rather than in the room where the entire trial has been held," the documents read. "We write to ask the Court to reconsider."
Attorneys argue that "the conspicuous increase in media presence that will necessarily accompany the move could have a substantial and prejudicial effect on the jury." They also claim that it could lend undue importance to the closing statements, which are legally less important to the case than the evidence that has previously been presented.
"For those reasons, defendants request that the jury hear the parties' closing arguments in the room they've been in all along," the documents read.
But they won't block out the press entirely, proposing that the court set up a closed-circuit feed in another room that will protect "the jury from the unsettling, distracting effects of media presence."
Stay tuned to RadarOnline.com as the case heads to a final verdict.