Katherine Jackson Breaks Down On Witness Stand Testifying About Son Michael Jackson's Death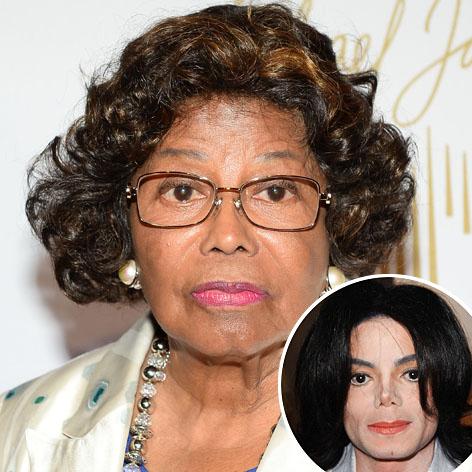 The frail looking Jackson family matriarch, 83-year-old Katherine Jackson, broke down in tears on the witness stand on Friday as she testified about the day her son, Michael Jackson, died — a key moment in her wrongful death lawsuit against AEG Live, the concert promoter which she contends is responsible for his death.
With the help of an attorney and a bailiff in the courtroom, Katherine Jackson was assisted to the witness stand.
Article continues below advertisement
According to the Los Angeles Times Jackson said,
"The most difficult thing is to sit here in this court and listen to all the bad things they say about my son. A lot of the things that have been said are not the truth. And he's not here to speak for himself."
"Are you here to speak for your son Michael?" Panish asked.
"I'll try my best," she replied.
On the day Michael Jackson was declared dead at the UCLA Medical Center, according to Katherine, the singer's daughter, Paris was screaming next to his body, "Daddy, I want to go with you."
MORE ON:
Celebrity Justice
Michael's then doctor, Conrad Murray was "pacing the floor," in the hospital, and Katherine testified she had never seen him before.
Paris, 15, has had the hardest time dealing with her father's death, compared to siblings, Prince Michael, and Blanket. Jackson's only daughter, has a pair of her father's pajamas, and never wants them washed because "she wanted his scent," Katherine told jurors.
Having recently attempting suicide, Paris was recently released from the UCLA Medical Center, and is now getting residential treatment at an undisclosed facility.
Recounting the day Michael died, Katherine became extremely emotional. "Do you miss your son?" Jackson's attorney Brian Panish asked.
Choking back tears, Katherine said: "There are no words."
Katherine Jackson is expected to be on the witness stand for the remainder of the day.