'Hiccup Girl' On Trial For Brutal Murder Of Man After Botched Robbery Attempt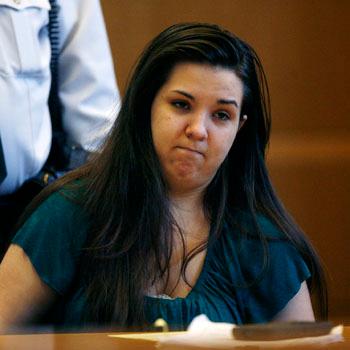 The young woman who gained national attention after her unusual medical condition earned her the nickname "Hiccup Girl" is on trial for a horrific murder after a botched robbery attempt in Florida.
Jennifer Mee, 22. is accused of killing Shannon Griffin, 22, in a robbery on October 23, 2010 for between $50 and $60 in St Petersburg, which went tragically wrong.
Prosecutors believe that she lured Griffin to an apartment to sell him marijuana but it was really a plan to rob him with two other men, Lamont Antonio Newton and Laron Cordale Raiford.
Article continues below advertisement
As RadarOnline.com previously reported, her mother said that she was diagnosed with Tourette's syndrome and that played a role in her involvement in the case.
A jury has been selected for the trial but her lawyer told the judge on Wednesday morning that Jennifer has been recently diagnosed with schizophrenia and a mental evaluation of her was ordered.
The mother of teenage "Hiccup Girl" Jennifer Mee has told RadarOnline.com that her daughter's Tourette's syndrome played a role in her involvement with a horrific murder case.
"They are making her out to be a cold blooded killer and that is simply not my daughter," Rachel Robidoux previously said about Jennifer's situation.
Her story was featured on The Today Show in 2007 after Jennifer couldn't stop hiccupping for six weeks.
Laron Cordale Raiford, 23, was convicted of Griffin's murder and was sentenced to life in prison without the possibility of parole. Lamont Antonio Newton is awaiting his trial.
The jury will return to hear opening statements for the afternoon session and RadarOnline.com will be following the case.