Gwyneth Paltrow Is A Gym Rat Diva, Demands Shower Stalls Wiped Dry & Fresh Toilet Paper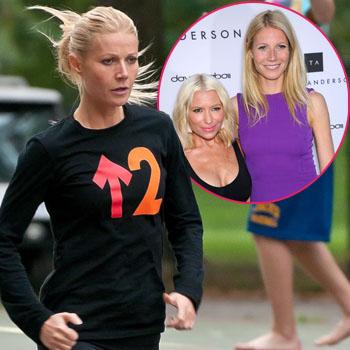 Gwyneth Paltrow is known for her smug advice and five star bikini wax recommendations but apparently the A-lister has a huge list of demands at the gym that top most Hollywood divas.
A devotee of the Tracy Anderson method, Gwyneth sweats it out at her high end gyms for two hours a day but her over the top requests are stunning.
"Before she showers, Gwyneth makes someone go into the stall and wipe the entire shower dry!" an insider tells Life & Style magazine.
Article continues below advertisement
"She refuses to touch what she calls 'somebody else's shower water.'"
Gwyneth, 40, likes to quench her thirst with Jennifer Aniston's trademark drink, SmartWater, but the tony gym doesn't normally have the bottles.
"When she's there, they have to send someone to the gas station to buy a couple bottles of SmartWater," the insider revealed. "She made such a fuss about it not being stocked, but she doesn't come in often enough."
Gwyneth's demands are even bordering on germaphobic the source said.
"She also refuses to use toilet paper that anyone has touched and demands an unopened package. It's nuts."