Bank Files Lawsuit To Take Dina Lohan's House: Foreclosure Moving Forward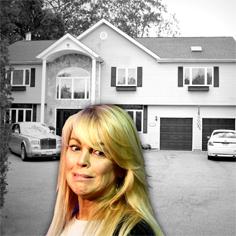 The bank is moving forward with foreclosure proceedings on Dina Lohan's $1.3 million Long Island home, RadarOnline.com is reporting.
According to LongIslandPress.com, JP Morgan Chase Bank filed a foreclosure lawsuit against Lindsay's mother on August 28 with Nassau County clerk's office to recoup the defaulted loan on the home.
Lohan "has failed to comply with the conditions of the mortgage…by failing to pay portions of principal, interest or taxes, assessments, water rates, insurance premiums, escrow and/or other charges," the court docs state.
Article continues below advertisement
As RadarOnline.com previously reported, a process server delivered court documents in February with intent to foreclose on the Merrick, New York, mansion.
Lohan's financial problems have been well-chronicled throughout the years, as the show biz parent, who's reportedly more than $1 million in the red, was previously on the brink of foreclosure both last year, and in 2005.
If Lohan fails to settle with the bank, the home could go up for auction.
On September 13, Lohan was arrested in New York for a DWI when authorities determined her blood alcohol level to be 0.20, more than double the legal limit of 0.08.
Lohan, 50, was traveling at "a speed of 77 mph in a 55 mph zone," in her white BMW before officers apprehended her,New York State Police said in a news release.
A pal close to Lindsay told RadarOnline.com after the arrest, "Lindsay's really pissed about her mother. She even said her mother 'is a f**kin child and she needs to be supervised… She said, 'And you wonder why I can't take advice from these people,' referring to her mom and dad."