Dennis Quaid Purchases New Home In Pacific Palisades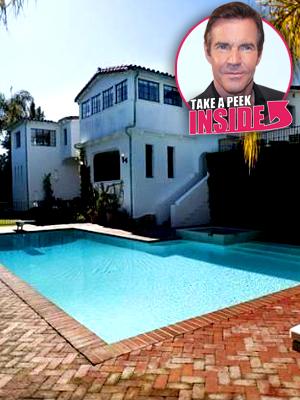 Just after selling their last abode in Pacific Palisades, Dennis Quaid and his estranged wife Kimberly, via an ambiguously-titled trust, have shelled out $5.1 million for another house in the celebrity-laden area, and we've got a look at it for you right here on RadarOnline.com.
The 59-year-old actor's newest home spans a spacious 6,114 sq. feet, with six bedrooms and nine bathrooms, according to The Real Estalker.
Article continues below advertisement
One sure sign of SoCal wealth -- it comes with a gated court driveway that can hold up to ten automobiles. Inside, amenities include a giant, stone-themed lobby, a chandelier and multiple fountains. A media room includes terrace-style seating with a flat-screen TV embedded in the wall. The home also has a swimming pool and a classic powder room.
Exact ownership remains a bit murky, as the Everybody's All American star and his estranged wife are currently in the divorce process, but have weathered many break-ups and make-ups in their eight years together.
The Pacific Palisades neighborhood is a favorite among stars in the SoCal area, as A-listers such as Rihanna, Ben Affleck and Tom Hanks own residences there.